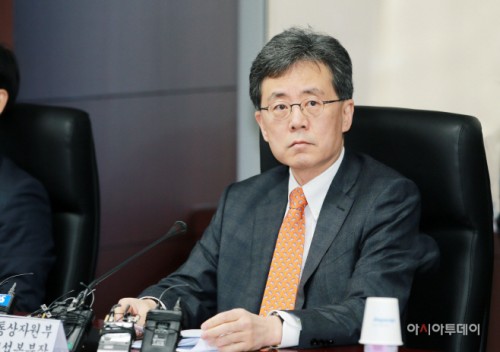 South Korean Trade Minister Kim Hyun-chong chaired a meeting on Tuesday with local washing machine and solar panel company officials to establish measures against the U.S. safeguard measures./ Source: Ministry of Trade, Industry and Energy
By AsiaToday reporter Choi Won-young
The government plans to file a petition with the World Trade Organization (WTO) against the U.S. government for imposing safeguard tariffs on South Korean washing machines and solar cells. The decision is based on the judgment that the measure is clearing violating WTO provisions. Besides, the government began to take steps to impose a 'retaliatory tariff' on the United States while dispatching the country's chief trade negotiator Kim Hyun-chong to Davos, Switzerland, where Donald Trump prepares to travel for the World Economic Forum.
Immediately after the U.S. decision to impose safeguard tariffs, the government held a meeting with Samsung Electronics, LG Electronics, Hanwha Q CELLS Korea, and Hyundai Heavy Industries Green Energy at the Korea Trade Insurance Corporation in Seoul. It expressed its regret to the U.S. authorities and clarified its will to file a petition with the WTO, saying that the U.S. decision is "excessive" and is an apparent violation of WTO provisions.
"The government will actively execute our rights guaranteed in WTO agreements, and appeal to the WTO for unfair measures. Considering my experience at WTO's appellate body, there is a strong chance South Korea will win the suit," said Trade Minister Kim Hyun-chong, who chaired the meeting. "We will promptly request bilateral talks with the U.S. to discuss compensation, and we plan to actively seek to suspend our application of tariff concessions on the U.S. if the talks fail to reach appropriate results."
However. it will take more than two years if the WTO petition begins, and it's not compulsory for the U.S. to implement the WTO decision even if it loses the case. If South Korea wins, it can take retaliatory measures against the U.S.. But it has to think carefully about what it can bring as a consequence.
The government also plans to take measures to minimize the damage of local washing machine and solar cell industry, which will be inevitably hit by the U.S. safeguard. It decided to support Samsung Electronics and LG Electronics run their washing machine factories in the U.S. earlier than scheduled and help other washing machine producers secure alternative export markets in Southeast Asia, Middle East and Eastern Europe. For solar cell companies, the government decided to diversify the export market and expand the domestic market in order to minimize damage.
Furthermore, the government asked the WTO for permission to impose annual trade sanctions worth at least $711 million on the United States if the Washington breaks the same rules again with regard to other products.
Minister Kim headed to Switzerland, where U.S. President Donald Trump will be travelling to attend the Davos Forum, to press the U.S..