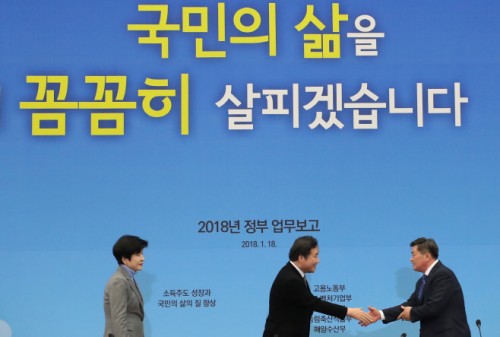 Prime Minister Lee Nak-yon greets the participants of the government briefing held at the Sejong Convention Center of Sejong Government Complex on Thursday./ Source: Yonhap News
By AsiaToday reporter Choi Tae-beom
The Moon Jae-in government announced it will help the minimum wage hike make a soft landing as one of its national strategies this year aimed at solving the labor market gap. It plans to iron out measures so that the current minimum wage of 7,530 won per hour can be stabilized at industrial sites.
The Ministry of Employment and Labor defined that last year was the period of building the foundation of income-led growth while this year is the period of proliferation in a briefing on Thursday, and said it will focus more on solving the labor market gap such as facilitating a soft landing in regards to the minimum wage hike.
The employment ministry said it will continue its job stabilization fund for small businesses that can face difficulties due to the recent minimum wage hike, judging that government support is necessary in order to realize President Moon Jae-in's vow to raise the hourly minimum wage to 10,000 won by 2020.
As a result, the government will provide up to a 130,000 won per worker from its job stabilization fund worth 3 trillion won for small businesses employing fewer than 30 workers.
The employment ministry has also decided to reduce the social insurance burden of small businesses by providing insurance premium support, such as expanding the employment and national pension insurance premiums, cutting health insurance premiums by 50%, and providing tax credit for four major social insurances.
During the briefing, Prime Minister Lee Nak-yon said, "The start of income-led growth policy is to change the existing economic system that increases the number of low-wage workers and low-income families and widens the income gap."
"The soft landing of the minimum wage hike and working hour shortening won't be easy. There is a lot of work to do to check and confirm whether the policy is properly implemented," the prime minister added.