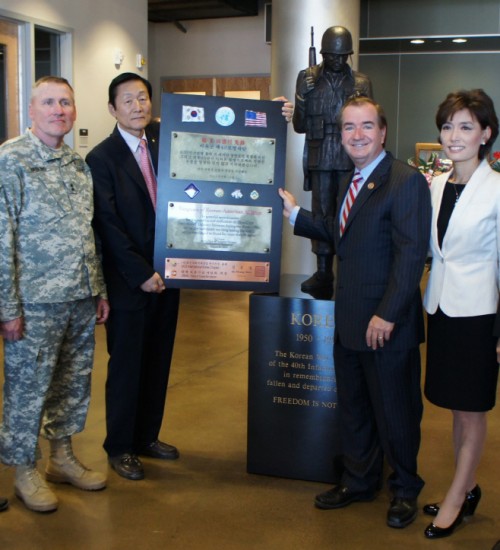 Ed Royce (third from the left), chairman of the House Foreign Affairs Committee; Lawrence Haskins (first), commander of the 40th Infantry Division; Shim Ho-myung (second), president of Damjae Friends of Korean War Veterans; and Young Kim, former California State legislator at an opening ceremony of the 40th Infantry Division headquarters at Los Alamitos, California, in August 2014./ Source: Damje Friends of Korean War Veterans

By AsiaToday reporters Yi Yoo-sun & Kim Jong-won


Expectations are rising in the Korean-American society as a Korean-American could be elected to US Congress for the first time in 25 years following Jay Kim (a.k.a. Chang-Joon Kim), former member of the U.S. House of Representatives from California.
Former state legislator Young Kim has announced Tuesday she will enter the race in the 39th congressional district of California. If she gets elected, she will become the first female Korean-American federal lawmaker.
A day before Young Kim's announcement, US Rep. Ed Royce, who is the chairman of the House Foreign Affairs Committee and considered one of the "pro-Korean" U.S. lawmakers, announced he would retire at the end of 2018. Then he endorsed Korean-American assemblywoman Young Kim Tuesday to succeed him.
Industry insiders carefully predict that Young Kim is highly likely to enter the Congress as she is backed by Royce, a 13-term prominent politician.
California's 39th district is a district with significant Korean American population. Spread over Los Angeles, Orange and San Bernardino counties, it includes Fullerton, La Habra, La Habra Heights, Brea, Yorba Linda, and Rowland Heights. Roughly one-third of the district's population is Asian-American.
Young Kim will be running in the June primary before the November election.
"I can attest to Young's dedication and abilities because she worked for me for almost 20 years," Royce said in a statement on Tuesday. "She knows our district, its people and its needs. She is a tireless and dedicated public servant."
On the same day, Kim announced she will run for Congress in the 39th district. "I pledge to continue the service-oriented and dedicated representation that Ed Royce is known for," said Young Kim. "The 39th district is vibrant, diverse and spread over three counties. I have worked with Rep. Royce in all the communities in the district and understand the issues and challenges faced by our residents," she said.
"In Congress, I will focus on policies that provide economic opportunities for the people in our district - good jobs, thriving businesses and access to the finest health care and educational opportunities in our nation. I will continue Congressman Royce's work to improve our relations with other nations and to keep our country safe and secure," Kim concluded.
Kim worked for Royce as a district staffer for 23 years before being elected to the 65th District of the California State Assembly in 2014. She moved to the United States with her family in 1975 after graduating from elementary school in South Korea.
She worked as a small business owner. She actively engaged in public service in the Korean-American broadcasts, women's organizations, and leaders' associations for the development of the district.
Her husband Charles Kim is the chairman of Inter-Community Action Network, a nonprofit election consulting association aimed to increase the political influence of Koreans. For over 30 years, he has contributed greatly to the advancement of Koreans into mainstream American society through political consulting and campaign knowhow.