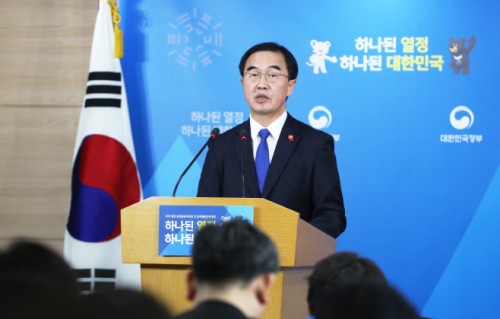 Unification Minister Cho Myoung-gyon gives a briefing on the Seoul-Pyongyang talks in Seoul on Tuesday./ Source: Yonhap News
By AsiaToday reporter Heo Go-woon
South Korea on Tuesday proposed high-level talks with North Korea next week at the truce village of Panmunjom in the demilitarized zone, in response to North Korean leader Kim Jong-un who expressed his willingness to take part in the PyongChang Winter Olympics and to open to dialogue with Seoul in his New Year speech on Monday. If the meeting takes place, the inter-Korean relations are likely to improve while resolving the security crisis on the Korean Peninsula as well.
Unification Minister Cho Myong-gyon proposed Tuesday that the two Koreas meet in the village of Panmunjom in the demilitarized zone on January 9 to discuss North Korea's participation in the upcoming PyeongChang Winter Olympics. "We hope that South and North Korea will sit down to discuss the North's participation in the PyongChang Winter Olympics and ways to improve inter-Korean relations in a frank manner," Cho said at a press conference.
If the talks are held, they would mark the first official meeting since the launch of the Moon Jae-in government and also the first high-level inter-Korean talks since December 2015. "The government has a willingness to have dialogue with the North regardless of timing, place and format," the minister said. The government will review the situation positively, even if the North changes the time, place and format of the meeting.
"We think that the Panmunjom channels related to holding the inter-Korean talks should be normalized immediately. We propose that the two Koreas discuss details of talks including agenda items and the composition of delegations through the Panmunjom channels," the minister said. The Panmunjom channels have been shut down since the operation of Kaesong Industrial Complex was halted in February 2016. The government tried to make communications twice on Tuesday, but the North did not respond.
If the key communication channels are restored and talks are held, expectations for normalization of inter-Korean relations will be higher than ever. The minister said that the upcoming talks would primarily focus on the Olympic participation, but the government hopes that they could pave the way for the resumption of inter-Korean talks and the improvement of the ties. About the possibility of prior consultation with the United States, the minister said, "We have been in close consultation."
The Unification Ministry's offer to North Korea comes after South Korean President Moon Jae-in urged authorities to organize "follow-up measures to quickly restore dialogue between the two countries and realize the North's participation in the Pyongchang Olympic Games at the first National Security Council (NSC) meeting held this year.