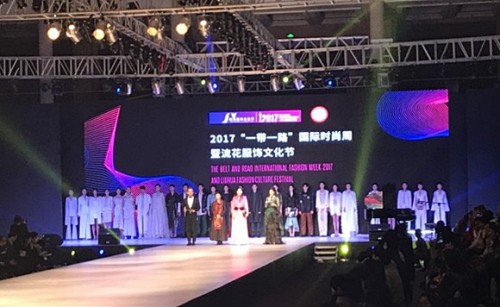 The opening ceremony of the Belt and Road International Fashion Week was held at the Liuhua Convention Center in Guangzhou, China, on Dec. 23./ Photographed by Jung Ji-hee

By AsiaToday reporter Jung Ji-hee
The Belt and Road International Fashion Week, part of China's development initiative One Belt and One Road, kicked off Saturday with a keen interest in the local fashion industry.

The International Fashion Week, which will be held until the end of the year at Liuhua Convention Center in Guangzhou, is a fashion show event involving leading fashion designers from all over the world, including China and South Korea. It's expected to serve as a window for China to exchange culture with other countries.
The opening ceremony on Saturday was crowded with fashion people in China with a large number of professionals engaged in fashion industry and celebrities in attendance, including Long Yuxiang, Executive Chairman of China International Cultural Communication Center (CICCC). From South Korea, Asia Today president Woo Jong-soon, Minjoo Party lawmaker Jung Jae-ho, Sun Moo University president Hwang Sun-jo, and Saddle Point chairman Koo Bon-il as chief Korean representative of the Fashion Week attended the event.
"Fashion starts with beauty and dreams are made with beauty. Chinese President Xi Jinping also regards the pursuit of the happiness of the people as deeply important," Long said in his congratulatory speech at the event. "I hope we will be able to promote various fashion cultures to the world through the International Fashion Week in the beautiful 'Flower City', Guangzhou."
The event heated up when Chinese fashion designers and brands displayed their latest collections in runway fashion shows.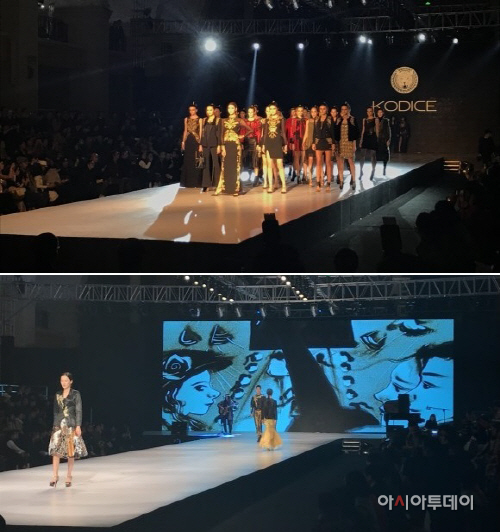 Fashion shows of Chinese brands KODICE (top) and Xiang Yun Gu Li/ Photographed by Jung Ji-hee
KODICE, whose design concept is 'wearable accessory', unveiled intense and urban looks centered on gold, black and red colors. Featuring the famous silk costumes from the Pearl River Delta in China, Xiang Yun Gu Li attracted attention with a collection that reinterpreted Chinese traditional costumes and another collection highlighting the pure white beauty with all-white fashion.
On Monday, Korean Brand Fashion Show Day was held with three brands including GABO, CHARM's, and XXCC, drawing heated attention from the fashion industry.
The Belt and Road International Fashion Week's brand fashion shows will continue until Saturday. The awards ceremony and the closing ceremony will be held on Sunday.