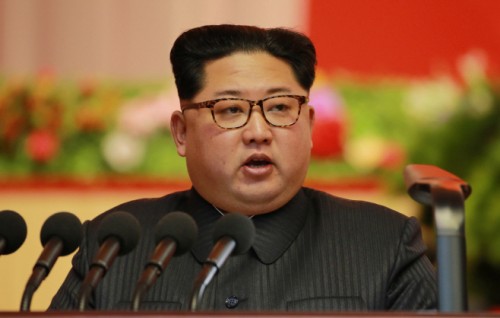 North Korean leader Kim Jong-un delivers a speech at the 8th Conference of Munitions Industry in Pyongyang on December 12./ Source: Yonhap News
By AsiaToday reporters Choi Tae-beom & Heo Go-woon
More North Koreans are risking their lives to defect to South Korea despite North Korea's strengthened border crackdown.
Many observers say that Kim Jong-un's reign of terror has reached the limit and the North Korean leader's regime is collapsing internally.
A North Korean soldier defected to the South through the heavily guarded Demilitarized Zone (DMZ) on Thursday, the Joint Chiefs of Staff said. Two other North Koreans aboard a fishing boat defected to South Korea on Wednesday by crossing the eastern sea border.
The number of North Korean defectors has tripled this year, as 15 North Koreans, including the four soldiers, had fled to South Korea this year, compared with five people, including one soldier, last year.
In the case of North Korean residents, many of them crossed the sea boarder in the East Sea into the South. In July, five North Korean residents - four men and one woman - defected from the North by a small boat via the East Sea. According to the Ministry of Unification, all of them said they "prepared to escape."
North Korean soldiers are increasingly defecting to the South. Two North Korean soldiers defected in June after crossing the military demarcation line (MDL).
Last month, another North Korean solider extraordinarily defected crossing the Joint Security Area (JSA), the only point in the demilitarized zone (DMZ) where soldiers of the two countries stand face-to-face. Many North Korean soldiers defected to the South by crossing the MDL, but it's the first time in a decade for a North Korean soldier to defect by crossing the South Korean side of the heavily guarded JSA in the village of Panmunjom.
Experts say increase in North Korean defections could be a sign that international sanctions on the Kim Jong-un regime are making economic conditions even worse for ordinary North Korean people.
Kim Heung-kwang, a former professor in North Korea and current head of North Korea Intellectual Solidarity, said in a telephone interview with AsiaToday, "The sanctions against the North is working. Such kind of defections are likely to occur among the young generation if sanctions on North Korea continue."
"It's the young generation called the Jangmadang generation that is most sensitive to North Korean sanctions. They are watching South Korean movies and drama series, and they don't believe in the North Korean authorities," Kim said.
"The sanctions on the North are causing food shortages, so young people are risking their lives to flee," he added.
Ahn Chan-il, the head of the Seoul-based World North Korea Research Center, said, "The fact that many soldiers are fleeing to the South means that the military is shaking."
"As the starvation and malnutrition in the military is intensified, more soldiers are expected to defect to the South," Ahn said.