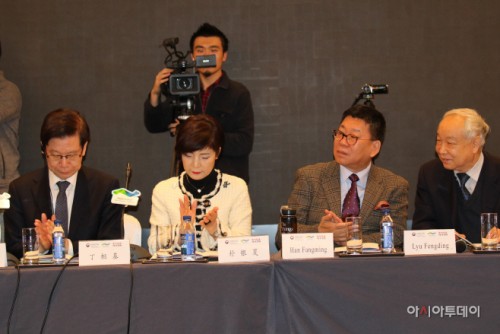 Park Enna (second left), Foreign Ministry's Ambassador for Public Diplomacy and Han Fangmin (third), chairman of the Charhar Institute and deputy director of the Foreign Affairs Committee of the Chinese People's Political Consultative Conference (CPPCC), attended the "Korea-China High-level Think Tank Forum" held at the Four Seasons Hotel in Beijing on Monday./ Photographed by Ha Man-joo
By AsiaToday reporter Ha Man-joo
Officials and private-sector experts of South Korea and China have suggested that a future-oriented roadmap for both countries should be made to build a mature partnership that will not be shaken in times of crisis.
"South Korea and China should jointly overcome challenges and share profits as accountable countries in the region," said Park Enna, Foreign Ministry's Ambassador for Public Diplomacy, in her congratulator address of the "Korea-China High-level Think Tank Forum" held at the Four Seasons Hotel in Beijing on Monday.
"The conflict between Seoul and Beijing is caused by a lack of understanding and comprehension between each other. There wasn't enough conflict management and overcoming materials than conflict itself," she said. "We need to create an appropriate blueprint to manage problems so that they don't lead to worsening of the relationship and to make a win-win situation."
"South Korea and China should strengthen their political trust and built a transparent and smooth dialogue mechanism to deepen mutual understanding and not to miscalculate," Han Fangmin, chairman of the Charhar Institute and deputy director of the Foreign Affairs Committee of the Chinese People's Political Consultative Conference (CPPCC), said in his congratulatory speech. "Both countries should communicate with each other through various channels, such as mutual visits and hotline construction, and further boost confidence between the two summits," he said. "We should regularize dialogue through bilateral military channels."
"The Korea-China economic and trade relations have deepened and trade has increased 11.4% amid the THAAD crisis," he continued. "With President Moon's visit, I look forward to the normalization of economic and trade relations and the establishment of a wide range of cooperation in humanities, culture and tourism.
Wei Wei, vice chairman of the Chinese People's Diplomatic Association, said, "The Terminal High Altitude Area Defense (THAAD) issue is directly linked to the national security of China."
After the forum, Wei met with AsiaToday and said, "I know it's a sensitive period ahead of President Moon Jae-in's visit, but I revealed my opinion because I believe it's important for the Korean government and people to understand China's position. This forum was constructive in that we understood Seoul's position as it expressed its concern that China is acting like a big brother as a great nation."
The forum was held on Monday jointly by the Korean National Diplomatic Academy and China's Charhar Institute. Nearly 50 officials and private-sector experts of South Korea and China gathered at the forum to raise awareness of South Korea's position for Chinese academics, ahead of President Moon's state visit to China.