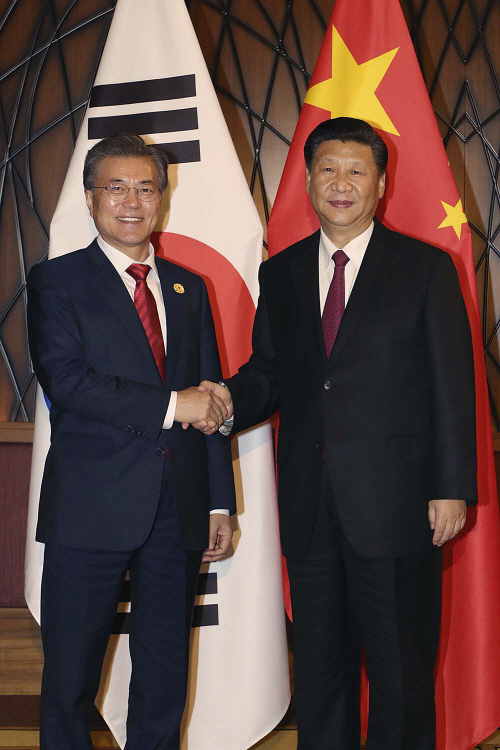 President Moon Jae-in, who visited Vietnam to attend the APEC Summit on Nov. 11, shakes hands with Chinese President Xi Jinping before holding a second summit./ Source: Cheong Wa Dae

By AsiaToday reporter Joo Sung-sik
President Moon Jae-in will head to Beijing next Wednesday to hold his third summit with Chinese President Xi Jinping. At the summit, Moon will once again try to further strengthen the Seoul-Beijing relations that have improved through the last two meetings. In addition, he is expected to draw up a new framework for bilateral economic cooperation between South Korea and China, and to maximize China's cooperation in resolving the North Korean nuclear issue and securing peace on the Korean Peninsula.
The presidential office Cheong Wa Dae announced Wednesday that President Moon will visit pay a state visit to China from Dec. 13 to 16 at the invitation of Chinese President Xi Jinping. Through his summit with President Xi and meeting with other Chinese leaders, including Premier Li Keqiang, President Moon will evaluate the development of the Korea-China relationship that marks the 25th anniversary of the establishment of diplomatic ties and discuss ways for further development in the future.
This will be Moon's first trip to China since taking office in May. It's quite different from the two meetings that took place at the G20 APEC summits in July and November. "It's meaningful that this summit will give an opportunity to further develop the relations between the two countries that have improved with the two last two meetings," said Kim Han-kwon, a professor at the Korea National Diplomatic Academy, in a telephone interview with AsiaToday. "It will be an opportunity to officially announce people of the two countries and the world that the Seoul-Beijing relations, which were strained by the deployment of the THAAD missile defense system, have improved," said Kim Heung-kyu, director of the China Policy Institute and professor at Ajou University in South Korea.
The Cheong Wa Dae official said Moon's visit is expected to provide an opportunity to quickly put the countries' bilateral relations and cooperation back on the right track by strengthening the trust and friendship between the two leaders. However, experts point out that it's important not to raise expectations too high since the conflict over the THAAD deployment is not completely resolved.
"What we need to focus on this summit is how to reestablish Korea-China economic cooperation strategically," said prof. Kim Heung-kyu. "We need to find a new framework for economic cooperation between South Korea and China," said prof. Kim Han-kwon. "Realistically, it's necessary to take a look at the possibility of linking China's One Belt One Road initiative and South Korea's New Northern and New Southern Policy."