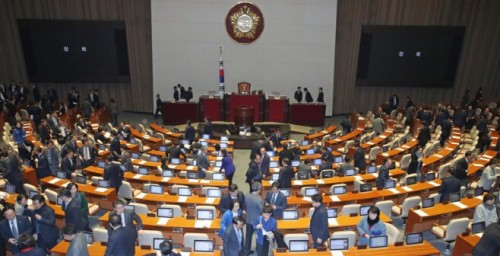 South Korea's lawmakers are leaving the plenary session on Dec. 2./ Source: Yonhap News
By AsiaToday reporter Lim Yoo-jin
South Korea's National Assembly members worked in "perfect harmony" to get a raise pay and increase the number of aides while failing to reconcile their differences over urgent public welfare and economic issues and passing the legal deadline for budget approval. The first budgets to support the new government's key pledges are being tackled one after another by party politics ahead of local elections in June next year, raising public criticism. The National Assembly members are too busy lining their pockets to fix urgent public issues.
Rival parties, which failed to endorse the 2018 budget bill by the legal deadline, decided to take a day off and resume budget negotiations on Monday at 10:30 am. However, it's unclear whether they will be able to reconcile their differences over new public service job creation and minimum wage increase. While the ruling Democratic Party of Korea (DPK) supported President Moon Jae-in's initial plan to increase some 12,000 public-service jobs next year, offering the number at 10,500, the main opposition Liberty Korea Party and the minor opposition People's Party pushed to reduce the number to 7,000 and 9,000, respectively. The rival parties also clashed over the fund to be set aside for small businesses to cushion their labor cost increase from the minimum wage increase. The opposition parties claimed the fund should be operated for a maximum of one year, but the ruling party opposed to fixing the period.
However, the parties agreed Friday to raise extra pay of congressional annual allowance by 2.6%. Lawmakers' wages will increase to 140 million won (US$128.8K) from 137.9 million won (US$126.9K). The parties had promised to freeze the wages during the 20th National Assembly last year, but quietly changed their positions. Last month, they also overwhelmingly passed a bill that allows to increase the number of aids per one assembly member from seven to eight. As a result, approximately 6.7 billion won (US$6.1 million) tax will be added every year. Such bill was passed within two weeks without delay unlike public welfare-related bills which have been remained under discussion for several weeks.
In a telephone interview with AsiaToday on Sunday, Dr. Kim Chang-nam of Kyung Hee University said, "It's very sad to see lawmakers secretly passing bills related to their own benefits and speaking with one voice on certain issues. The problem is that there isn't a proper solution like 'national recall system' which allows to recall assembly members who are doing wrong during their term."