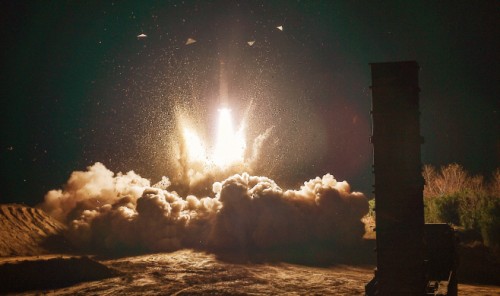 The South Korean Army fired Hyunmoo-2 ballistic missile during a joint drill early Wednesday morning immediately after North Korea fired a missile./ Source: Yonhap News

By AsiaToday reporter Choi Tae-beom
North Korea fired what appeared to be a new type of intercontinental ballistic missile (ICBM) early Wednesday, breaking 75 days of silence. The Hwasong-15 missile, that North Korea has claimed, reached the highest altitude ever recorded by a North Korean missile and is capable of hitting the US mainland.
The firing has eventually ruled out the possibility of dialogue with the U.S. that has been rising with US President Donald Trump's Asia trip this month.
In response to the launch, Trump said the United States will "take care of it," raising security concerns in the Korean Peninsula.
South Korea's Joint Chiefs of Staff said that North Korea fired a ballistic missile at 3:17 am on the East Sea from Pyongsong, South Pyongan Province. The missile flew nearly 960 kilometers after peaking at an altitude of 4,500 kilometers. If flown on a standard trajectory, the missile could have flown at least 9,000 kilometers and up to 13,000 kilometers.
US experts estimated that such a missile would have a range of more than 13,000 kilometers, and the Japanese Ministry of Defense also estimated that it flew the longest distance ever. It's about 5,000 kilometers from North Korea's east coast to Alaska and 8,200 kilometers to the West Coast of the United States. Such a missile could theoretically hit the West Coast.
South Korea's National Intelligence Service said that North Korea's missile provocation was intended to "demonstrate its ability to strike the United States and express its dissatisfaction with China's sanctions against North Korea."
South Korea's air force, navy and army held a joint drill in the East Sea practicing precise strike capabilities only six minutes after the launch. South Korea's Joint Chiefs of Staff warned, " North Korea is fully responsible for all subsequent incidents."
President Moon Jae-in was briefed two minutes after the missile launch, and convened a meeting of the National Security Council (NSC).
At the meeting held at 6 am, Moon said, "We will not let North Korea to make provocations at all." He said, "We must stop a situation where North Korea misjudges and threatens us with nuclear weapons or where the United States considers a pre-emptive strike."
The United States is likely to pick military options against North Korea, which is going against a path to peace through dialogue, casting a shadow over the security on the Korean Peninsula.