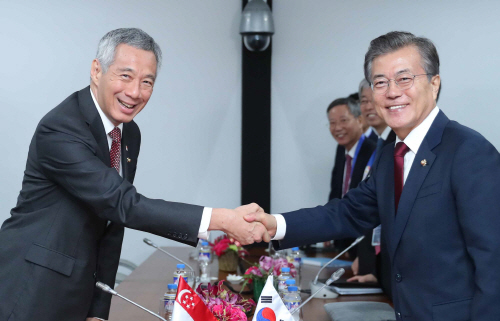 President Moon Jae-in shakes hands with Singapore's Prime Minister Lee Hsien Loong during bilateral talks at the Philippines International Convention Center (PICC) in Manila, Philippines, November 14./ Source: Yonhap News

By AsiaToday reporter Joo Sung-sik

South Korean President Moon Jae-in, who is visiting the Philippines to attend the Asean Plus Three (China, Japan and Korea) Summit, had a talk with Singapore's Prime Minister Lee Hsien Loong on Tuesday at the Philippines International Convention Center (PICC) and discussed the relationship between Korea and Singapore as well as the development of practical cooperation between the two countries.
The two leaders agreed that South Korea and Singapore have developed into close partners in various fields such as politics, economy and human exchanges, and agreed to cooperate with each other in order to maintain the ties.
"The Korean government is striving to secure a sustainable growth engine by strengthening the capabilities of SMEs to innovate and creating jobs with the goal of achieving 'people-oriented' economy'," Moon said. "Since both countries are interested in innovative growth in the era of the Fourth Industrial Revolution, I hope we cooperate together through Singapore's Smart Nation Initiative' and more."
"Singapore has been striving to strengthen its SMEs' innovation capabilities," Lee said. "There is much room for cooperation with South Korea, an advanced country in the field of information and communication technology, in the era of the Fourth Industrial Revolution. Let's work closely together."