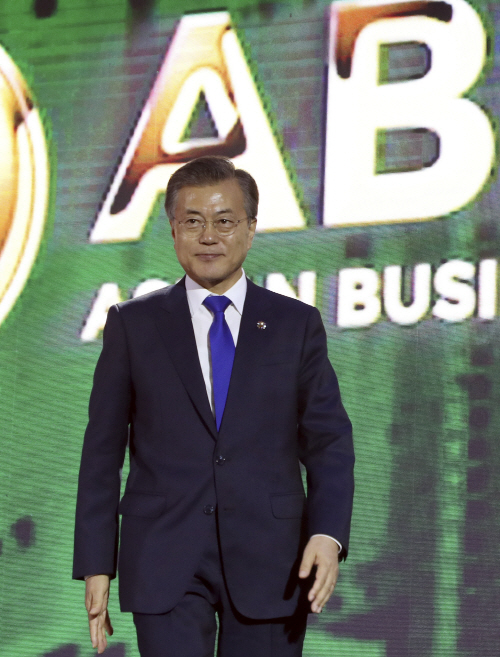 President Moon Jae-in descends from the stage after announcing his South Korea-ASEAN joint community plan at the ASEAN Business and Investment Summit 2017 held at the Solaire Hotel in Manila, Philippines, Monday./ Source: Yonhap News
By AsiaToday reporter Son Ji-eun
President Moon Jae-in pledged Wednesday to double the South Korea-ASEAN Cooperation Fund to $14 million per year by 2019 as part of his New Southern Policy. He plans to expand financial support for the realization of the New Southern Policy which will increase the trade volume with ASEAN to the level of China by 2020.
Moon revealed such plans for the future South Korea-ASEAN community in his keynote speech at the ASEAN Business and Investment Summit 2017 (ABIS 2017) with 500 business and academic leaders from 10 ASEAN countries in attendance at the Solaire Hotel in Manila. Moon was visiting the Philippines for the ASEAN-South Korea summit.
"Economic cooperation is achieved only with financial support," Moon said in his speech. "South Korea will dramatically increase its ASEAN-related fund." He announced plans to double the ASEAN Cooperation Fund by 2019 and to triple the South Korea-Mekong Cooperation Fund. He also said Seoul will seek to boost its annual trade volume with ASEAN to over $200 billion by 2020.
The president named the transportation, energy, water management and information technology industries as four key areas for cooperation with ASEAN. He also revealed his plan to additionally raise $100 million to the global infrastructure fund by 2022 to support the four major sectors for cooperation. This is aimed to build a "joint community for prosperity" through mutually beneficial economic cooperation, one of Moon's 3P strategies. "I support mutually beneficial economic cooperation. This is also the philosophy of the "people-centered economy" that the new South Korean government is aiming at," Moon said. "South Korea is an ideal partner for sharing experiences with ASEAN countries that are striving for growth."
"Our future I'm thinking of is the 3P community," the president said. "The 3P community refers to a community for people where people and people are connected, a community for peace that contributes to Asian peace through security cooperation, and a community for prosperity where everyone lives well through mutually beneficial economic cooperation."
"My political philosophy, People first, is in line with ASEAN countries' efforts to build a people-centered, people-oriented community," he said. "We must first be friends in order to share a future together." To this end, the president said he will increase exchanges between heads of state, governments, enterprises and students. "Before anything else, I will visit all 10 ASEAN countries during my presidency to share our deep friendship." Moon has already visited three ASEAN countries since taking office, including Indonesia, Vietnam, and Philippines.
Regarding the establishment of a community for peace for all citizens, Moon proposed building a joint community for peace that will support each other in times of crisis. "To this end, we will further strengthen cooperation in security and defense industry, and jointly respond to North Korea's nuclear and missile provocations, as well as terrorism and cyber attacks."