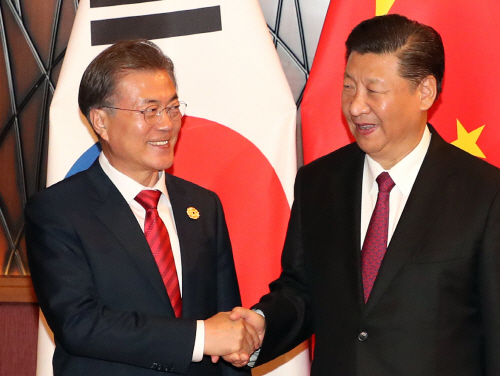 South Korean President Moon Jae-in and Chinese President Xi Jinping shake hands at the summit held at the Crowne Plaza hotel on Saturday on the sidelines of the Asia-Pacific Economic Cooperation meeting in Danang, Vietnam./ Source: Yonhap News
By AsiaToday reporter Son Ji-eun
President Moon Jae-in and Chinese President Xi Jinping agreed to hold a third bilateral summit next month in China. They reached the agreement during a summit on Saturday on the sidelines of the Asia-Pacific Economic Cooperation meeting in Danang, Vietnam. Moon also asked the Chinese leader to visit the 2018 PyeongChang Winter Olympic Games in South Korea next year, and Xi responded, "I will make efforts to visit South Korea."
The summit between Moon and Xi took place for about 40 minutes at the Crowne Plaza hotel. It is the second summit since the meeting in Germany in July, and the first of its kind since the agreement on the improvement of the bilateral relations on Oct. 31.
"The two leaders first agreed to hold a summit in China next month to discuss the future-oriented relationship between the two countries in a comprehensive manner," Moon's chief press secretary Yoon Young-chan told a press briefing after the Moon-Xi summit. On the issue of the THAAD missile defense system, Yoon said that the two leaders agreed to quickly put the countries' exchange and cooperation in all sectors back to the normal track while welcoming the agreement released last month. Xi highly regarded the agreement between the two countries, saying, "It is a new start and a good beginning."
The two leaders, who met in four months, shared words of blessing and creating a warm atmosphere. Xi expressed his gratitude for President Moon's congratulatory message on Xi's re-election as General Secretary of the Communist Party of China on Oct. 25 while Moon showed friendliness saying that Xi's "xiaokang (moderately prosperous) society" is in line with his "people-centered economy" principle. "Watching your emphasis on achieving xiaokang society, where all the people enjoy comfort and prosperity, I was able to feel the spirit of a leader who deeply thinks about the people," Moon said. "It corresponds to the 'people-centered economy' policy that me and the government are pushing ahead."
Meanwhile, Cheong Wa Dae commented on Xi's call on South Korea to take a responsible attitude on THAAD, saying, "Xi Jinping's remark is the reaffirmation of China's previous position. It did not go beyond the scope of the joint announcement on October 31." What Cheong Wa Dae intended to say is that it is true that Xi made the statement, but that he did not intend to re-issue the THAAD issue in the whole context of the dialogue. A Cheong Wa Dae official said, "President Moon said that THAAD is not aimed at China."