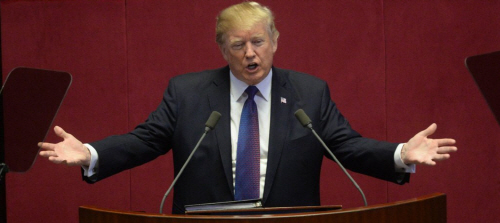 U.S. President Donald Trump delivers a speech at the National Assembly in Seoul on November 8./ Source: Yonhap News

By AsiaToday reporter Joo Sung-sik
U.S. President Donald Trump urged North Korea to halt nuclear and missile provocations by stressing his strong will to strengthen pressure on the North based on strong alliance with South Korea and strength in a speech Wednesday at the National Assembly. He also mentioned the economic and social development of South Korea, which has built friendship at the Seoul summit, and expressed his strong will not to tolerate any risks that threaten it.
Unlike the security issues, Trump did not spend much time on trade issues including the Korea-US free trade negotiation. He briefly said, "We had productive discussions on improving the trade relationship between our nations on the principle of fairness and reciprocity." It seems that he put aside all of the sensitive issues and put much emphasis on strong Seoul-Washington alliance in order to maintain urgent cooperation between the two countries.

Trump delivered a speech at the South Korean National Assembly Wednesday, becoming the first U.S. president to do so in 24 years. He said that South Korea has become a successful nation in various fields, such as economy, culture and sports, saying, "I know that the Republic of Korea will be a faithful ally of the United States very long into the future."
About the summit talks with President Moon Jae-in on the previous day, Trump said, "This alliance between our nations was forged in the crucible of war and strengthened by the trials of history." He added, "Through this entire visit, it has been both our pleasure and our honor to create and celebrate a long friendship between the United States and the Republic of Korea."
However, Trump put much time focusing on deterrence against North Korea based through strength by mentioning many North Korean provocations. "The world cannot tolerate the menace of a rogue regime that threatens with nuclear devastation," he said. "We will not permit America or our allies to be blackmailed or attacked."
In particular, Trump said that the United States is completely rebuilding its military and is spending hundreds of billions of dollar to the newest and finest military equipment, and warned, "Do not underestimate us. And do not try us."
He also proposed a solution to the North Korean nuclear issue aimed directly at North Korean leader Kim Jong-un. "North Korea is not the paradise your grandfather envisioned. It is a hell hat no person deserves," he said. "We will offer a path to a much better future. It begins with an end to the aggression of your regime, a stop to your development of ballistic missiles, and complete, verifiable, and total denuclearization."
After his speech at the National Assembly, Trump visited Seoul National Cemetery to pay his respects before leaving to Beijing, China.
Meanwhile, Trump tried to visit the Demilitarized Zone (DMZ) along with President Moon Jae-in ahead of his speech at the National Assembly in the morning. Although his trip to the DMZ had been cancelled due to poor weather conditions, observers say it was enough to send a strong message on the tight South Korea-U.S. alliance and security for peace.