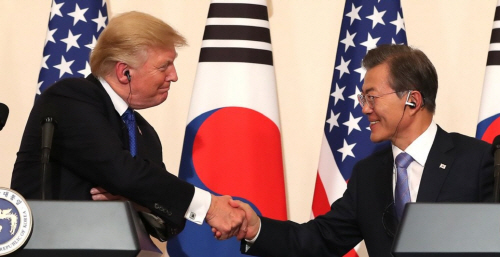 U.S. President Donald Trump and South Korea's President Moon Jae-in shake hands at a joint news conference at South Korea's presidential Cheong Wa Dae in Seoul on Tuesday./ Source: Yonhap

By AsiaToday reporter Joo Sung-sik
South Korea and the United States have declared a new era for greater Seoul-Washington alliance. President Moon Jae-in and his U.S. counterpart, Donald Trump, had a summit Tuesday at Cheong Wa Dae where they agreed to strengthen the US-ROK alliance based on strong bilateral cooperation in resolving the North Korean nuclear issue and more.
The leaders agreed to expand the rotational deployment of U.S. strategic assets to South Korea and its surrounding areas and to strengthen strategic alliances to strengthen South Korea's defense capabilities. In particular, the leaders reached a final agreement on removing the limit on missile payloads.
"President Trump and I reaffirmed our resolve to peacefully end the North Korean nuclear standoff through a frank talk," Moon said in a joint press conference with the U.S. president. "We reaffirmed the principle of responding firmly to the growing nuclear and missile threats of North Korea based on overwhelming strength."
"I urge North Korea to stop its nuclear provocations and come to the table for the denuclearization of the Korean peninsula," Moon said. "President Trump and I reaffirmed our existing strategy of putting sanctions and pressure on North Korea until the North gives up its nuclear weapons and engages in serious dialogue."
President Trump said South Korea was not simply a long-term alliance for the United States. "We cannot allow North Korea to threaten all that we have built," he said.
What is meaningful about the Seoul summit is that it provided an opportunity to take the bilateral comprehensive alliance toward an even greater alliance by strengthening cooperation in resolving the North Korean issue and more.
Before the summit, Moon made a surprise visit to Camp Humphreys, a U.S. military base in Pyeongtaek, Gyeonggi Province, to greet Trump, and stressed the importance of the US-ROK alliance. Moon had a luncheon meeting with South Korean and U.S. armed service members at the base along with Trump, and told the troops, "You are the foundation stone and the future of the ROK-U.S. alliance."
After a short meeting at the military base, the two heads met again at an official ceremony in Cheong Wa Dae. The welcoming ceremony was held with the highest courtesy and honor in that it was the first sitting U.S. President to make a state visit to South Korea in 25 years and also the first head of state to visit to the country since President Moon's inauguration in May.