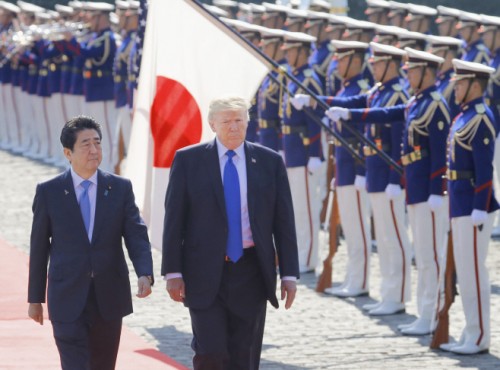 U.S. President Donald Trump and Japanese Prime Minister Shinzo Abe inspect an honor guard at Akasaka State Guest House in Tokyo on Monday,/ Source: Yonhap News

By Tokyo correspondent Um Soo-ah
U.S. President Donald Trump had a summit-talk with Japanese Prime Minister Shinzo Abe on Monday and decided to maximize pressure on North Korea.
Abe is said to have accomplished his intended goal during the summit by showing off his friendship with Trump and bringing him into contact with relatives of the Japanese nationals abducted by North Korea. However, he is likely to be under pressure to resolve the imbalanced trade between Japan and the U.S. as Trump made remarks on issues related to U.S. economic interests.
"We agreed that Japan and the United States will raise the pressure to the maximum possible extent in making North Korea change its policies," Abe said during remarks at a joint news conference in Tokyo alongside U.S. President Donald Trump. "We fully support the Trump administration's stance that all options are on the table (in dealing with North Korea)."
The two countries agreed that now is the time not for dialogue but for applying additional sanctions. Abe revealed that Japan plans to freeze assets of 35 North Korean entities and individuals on Tuesday.
"The two countries agreed 100 percent on analyzing the latest information on North Korea and agreed on what to do next," Abe said. "It's important to create a situation in which North Korea will change its policies for a dialogue."
Abe said that Trump's Japan visit made it possible for two leaders to show the unshakable alliance between the U.S. and Japan, referring to their first meeting in New York in November last year. Regarding Trump's meeting immediately before the joint press conference with the parents of Megumi Yokota, who was kidnapped by North Korean spies in 1997, Abe expressed his determination to resolve the North Korean abductions of Japanese citizens, saying, "I'd like to tell the world that there are still people suffering from this."
Trump stressed that North Korea's nuclear tests and ballistic missile launches are a threat to the world, and the "era of strategic patience is over." He added that the U.S would respond to North Korea's threats based on its firm alliance with Japan.
In the meantime, Trump also raised an issue of the trade imbalance between the U.S. and Japan. He said that trade rearrangements are needed, saying, "We will try to resolve unfair trade relations with Japan." He also said that trade arrangements with China have been unfair, hinting that he will put pressure on China over trade and commerce ahead of his visit to China.