By AsiaToday reporter Choi Tae-beom
It is said that global daily newspaper Asia Today has played a prominent role in leaping South Korea-China relations into a new future-oriented one beyond the dispute over the deployment of the U.S. missile defense system THAAD.
Among the domestic media, Asia Today has played a leading and preemptive role to make a breakthrough in the Seoul-Beijing relations that have been chilled over the deployment of the THAAD missile defense system on the peninsula.
Asia Today, which celebrates its 12th anniversary on Nov. 11, has been devoting itself to practically develop relations, maintain amicable relations, and cooperate economically with China.
For many years, it has been sending out correspondents to Beijing and Yancheng to deliver vivid news on politics, economy, society, culture and other fields so that both China and South Korea can cooperate, prosper and promote mutual benefits.
When the domestic culture and tourism industry as well as the overall industrial world were hit hard following the government's decision to deploy the THAAD system, Asia Today sought ways to thaw Seoul-Beijing relations through private exchanges with China.

In particular, Asia Today president Woo Jong-soon has played a key role in developing bilateral relations by working as the honorary chairman at the China Public Diplomacy & Culture Exchange Center, the vice president of the Korea-China Economy Association, and the special advisor of Shandong and Guangdong Province Committee at the China International Trade Promotion Committee. He also made a considerable effort in planning special reports to break through the chilly Korea-China relations. As a part of his efforts, a special talk with a high-ranking official in the Chinese culture industry was held and the talk is known to have worked as the first step to warm the South Korea-China relations.
During the talk with Woo on Oct. 12, Long Yuxiang, Executive Chairman of China International Cultural Communication Center, pledged to make efforts to remove China's ban on Korean drama series, movies, concerts, and other cultural content as soon as possible. It was the most positive sign of improvement in Seoul-Beijing relations when Hallyu, or the Korean wave, was banned in China. Long, who holds a crucial role in the Chinese government's biggest focal project "One Belt, One Road," is a key person leading the foreign ministry on behalf of the Chinese government.
On Oct. 13, a day after the special meeting between Woo and Long, the two countries agreed to extend their currency swap deal. Then a meeting of South Korean and Chinese defense ministers was held on Oct. 24 for the first time in two years.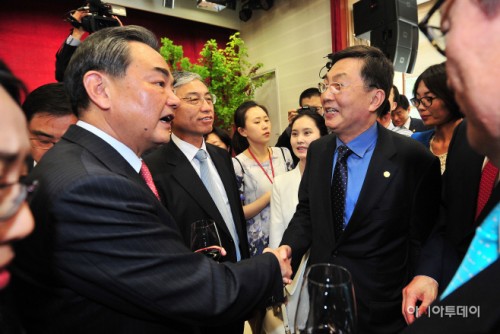 Asia Today president Woo Jong-soon shakes hands with Chinese Foreign Minister Wang Yi at a meeting of Chinese-friendly figures at the Chinese embassy in South Korea in May 2014./ Photographed by Lee Byung-hwa (photolbh@)

In July, Woo paid a visit to Abundant Dragon Group (also known as "ADG" or "Yulong Group") in Qingdao, Shandong Province, to meet the chairman and signed a strategic Memorandum of Understanding (MOU).
The two signed an agreement to promote economic exchanges and friendly cooperation between the two countries, paving the way for Korea-China exchanges, which have been shrinking considerably despite the 25th anniversary of diplomatic relations.
Asia Today will continue to play its role as a bridge that will contribute to the development of Korea-China economic development and private exchanges.