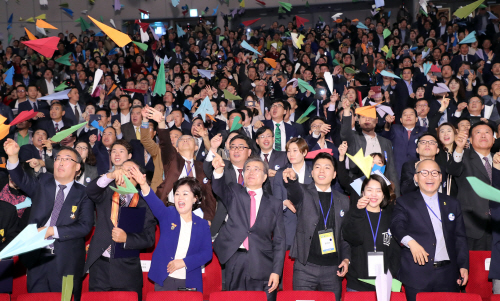 President Moon Jae-in and leaders of local governments fly paper planes representing different local governments during a ceremony to mark Local Autonomous Day in Yeosu, South Jeolla Province, on Thursday./ Source: Yonhap
By AsiaToday reporter Joo Sung-sik
President Moon Jae-in has vowed to seek a constitutional revision to decentralize power and strengthen regional autonomy. He once again showed his will to institutionalize second Cabinet meeting and constitutionalize the four autonomous powers of local governments. He also said he will aim to change the official title of local governing entities to local governments.
Speaking at a ceremony marking the nation's 5th Local Autonomy Day at the Yeosu Expo World Exhibition Hall in Yeosu of South Jeolla on Thursday, the president said, "The nation has long adopted imbalanced growth strategies centered on the capital region. As a result, Seoul and the surrounding metropolitan area has become oversized while other areas have fallen behind." He said the new government will steadily seek a strong decentralized republic where the capital and provinces co-prosper.
"We will seek to make it a law to hold second Cabinet meeting and incorporate local governments' legislative, administrative and financial powers as well as welfare rights into the Constitution," the president said. "We will aim to change the name of local governing entities to local governments."
Particularly, Moon's plan for local finance improvement received an enthusiastic response among the attendees of the ceremony. "We will strongly seek fiscal decentralization for financial independence of local governments. We will seek to increase the distribution ratio of taxes between the central and local governments to 7:3, and to 6:$ in the long term," he said. "We will also give more power to local governments such as that to operate municipal police and set up their own education systems."
In addition, he promised to promote innovation city project more strongly in order to seek balanced national development. "We will develop innovation cities into a large-scale cluster to secure competitiveness in regional industries."
Ahead of the ceremony, Moon met with leaders of the metropolitan cities and provinces at the Yeosu Expo Convention Center, and said, "I will make local autonomy and decentralization the basic value of the state administration so that the grassroots democracy found in the candlelight revolution can take root." He said, "People's lives can take a leap when they can participate in resolving the problems that come up in their lives through autonomy."
"We live in an era where the centralized administration can no longer create a growth engine. Autonomy and decentralization will be the new engines of growth for the Republic of Korea," Moon said.
It was Moon's second meeting with local government leaders, after one at Cheong Wa Dae (Blue House) in June. During the first meeting, Moon said he will pursue a constitutional revision for decentralization of power to regularly hold second Cabinet meeting with the heads of local governments.