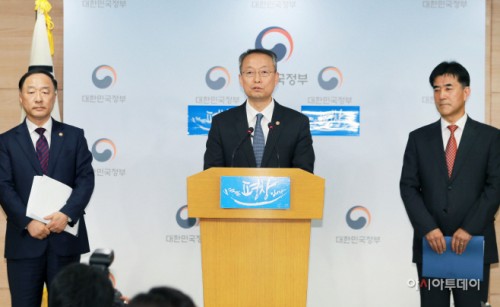 Paik Un-gyu (center), Minister of Trade, Industry and Energy, makes a joint briefing on the government's decision on the Shin Kori-5 and Shin Kori-6 and the roadmap for nuclear reactors, along with Hong Nam-ki (left), Minister of Government Policy Coordination, and Choi Jong-bae (right), Secretary General of the Nuclear Safety and Security Commission, at the Government Complex Seoul on Oct. 24./ Source: Ministry of Trade, Industry and Energy.

By AsiaToday reporter Choi Won-young
The South Korean government has decided to gradually reduce the number of nuclear reactors to 14 by 2038. It will cancel plans to build a further six new nuclear reactors, will not allow lifespan extension for 14 aged reactors, and will close Wolsong-1 earlier than scheduled.
Paik Un-gyu, Minister of Trade, Industry and Energy, announced Tuesday the plans to phase out nuclear energy at the Government Complex Seoul. The key point of the roadmap is that the government will restart the suspended construction of the Shin Kori-5 and Shin Kori-6 as a state commission recommended doing so last week, but it will accelerate its nuclear phase-out policy.
As a result, construction work for Shin Kori-5 and Shin Kori-6 will begin immediately after midnight on Tuesday, and construction for other regulatory facilities will be resumed soon after consulting with the Nuclear Safety and Security Commission and the Korea Hydro & Nuclear Power Corp..
However, the government has decided to cancel all plans to construct the six nuclear reactors with a projected combined capacity of 8.8 gigawatts (GW), including Shin Hanul-3, Shin Hanul-4, Cheonji-1, Cheonji-2, and two more units. Besides, it will not allow extending the lifespan of 14 aged nuclear reactors, including Kori-2, Kori-3, Kori-4, Wolsong-2, Wolsong-3, Wolsong-4, Hanbit-1, Hanbit-2, Hanbit-3, Hanbit-4, Hanul-1, Hanul-2, Hanul-3, and Hanul-4, totaling 12.5 GW of capacity. In addition, it will close Wolsong-1 of 700 MW earlier than scheduled due to stability concerns of power supply.
It will increase the portion of renewable energy from the current 7 percent of the country's total power generation to 20 percent by 2030. The plan is to replace the nuclear power energy with clean energy such as solar and wind power. The specific plan will be reflected in the "Implementation Plan for the 3020 Renewable Energy" within the year.
In relation to the early closure of Wolsong-1, minister Paik said, "In addition to safety issues, Wolsong-1 poses serious problems in handling spent fuel. We will deeply examine the issues surrounding the acceptance and safety of local residents for spent fuel processing facilities."
On some views of the need for public debate on the nuclear phase-out policy, the energy minister said, "Phasing out nuclear power is a global trend, and one of President Moon Jae-in's presidential election pledges. We believe that the nuclear phase-out policy has been selected by the people." He added, "We will steadily implement the nuclear phase-out roadmap in the future."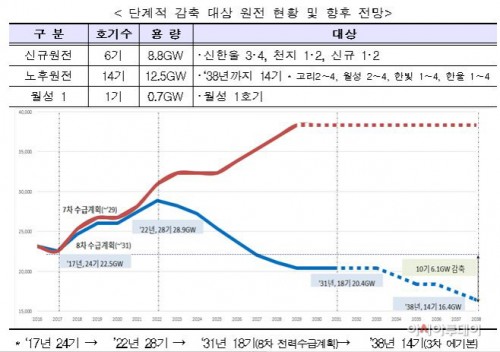 Source: Ministry of Trade, Industry and Energy