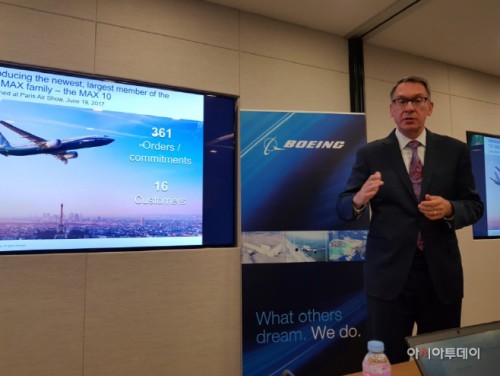 At the Boeing press conference held at the Seoul Finance Center on Monday, Randy Tinseth, Boeing Commercial Sector Marketing Vice President, said, "Airlines with large networks in Northeast Asia will restructure their planes to meet market demands."/ Photographed by Ahn So-yeon

By AsiaToday reporter Ahn So-yeon
Low-cost carriers (LCC) are expected to lead the airline market in Northeast Asia, including South Korea. Therefore, global aviation manufacturers expect new airline demand and replacement for small and medium sized aircrafts in Northeast Asia.
Boeing held a press conference at its Korea branch office building on Monday. Randy Tinseth, Boeing Commercial Sector Marketing Vice President, said, "As LCC market is growing rapidly in South Korea, traffic volume in Northeast Asia is expected to increase by 2.2% for the next 20 years."
The model that Boeing is focusing is the 737 MAX 10, which can carry 200 seats. "It is much lighter and more efficient than its rival models, and the operating cost is 5% lower than its rivals," Randy Tinseth said. Boeing can save about $1 million a year.
"Demand for travel is very high among South Koreans." He said that the number of travelers will continue to increase over the next 20 years thanks to the revival of the middle class and the increased number of flights to new destinations.
He didn't say much about the ongoing launch of new domestic airlines. "The demand for airplanes by new carriers is difficult to predict," Tinseth said. "If the LCC market grows to some extent, there may be a rearrangement in the market."
Boeing predicts that airlines in Northeast Asia will need 1,470 new airplanes between now and 2036, valued at approximately $320 billion. The company expects that airlines around the world will spend $6.1 trillion to order 41,030 planes over the next 20 years.
"The future of the global aviation industry will be driven by developing countries and LCCs," said Tinseth. "The biggest markets are Northeast Asia, the United States and Europe."
On the other hand, he didn't say much about Kobe Steel's data-fabrication scandal, which has been controversial in the international community, saying that it was "under investigation."
A Boeing official said, "We will continue to investigate the issue with our partners and will notify as new information comes out."