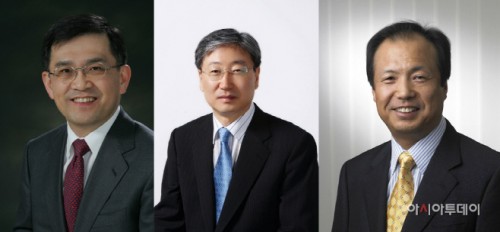 (from left) Kwon Oh-hyun, Vice Chairman at Samsung Electronics; Yoon Boo-keun, CEO of CE Division; Shin Jong-kyun, CEO of IM Division.

By AsiaToday reporter Kim Min-soo
All eyes are on who will the next boss as Samsung Electronics vice chairman and CEO Kwon Oh-hyun, who had been the tech conglomerate's acting boss with the absence of de facto leader Lee Jae-yong, announced his resignation. Kwon has been the only vice chairman in the conglomerate except Lee Jae-yong.
Kwon has been responsible for all business and corporate management activities as CEO, board chairman and in-house director of the semiconductor and display sectors. Besides, he has been acting as 'Samsung's face' both at home and abroad attending various events on behalf of Lee Jae-yong.
As Kwon announced his retirement last Friday, the business world is paying attention to who will be Kwon's successor.
First, the role of two other chief executives, Yoon Boo-keun and Shin Jong-kyun are expected to expand. In particular, Yoon Boo-keun, the second most senior of the conglomerate' three CEOs following Kwon, is considered one of the strongest candidates for the next boss.
Yoon has been directly supporting Lee Jae-yong's "prison management" along with Kwon. The business world highly believes that two CEOs Yoon and Shin will take on the role of Kwon as president and chairman of the board. Samsung's semiconductor business president Kim Ki-nam, who has been leading the business along with Kwon, is being mentioned as the next head of the Device Solutions (DS) division.
However, it is also possible that a full replacement will be implemented, not limited to existing management, since Kwon said Friday, "I believe that time has now come for the company start anew, with a new spirit and young leadership to better respond to challenges arising from the rapidly changing IT industry."
Samsung CEOs are expected to keep their seats for a while and take measures against the vice chairman's vacancy while Kwon is expected to appoint his successor by March 2018, when his term ends.
Meanwhile, Samsung Electronics saw another record profit of 14.5 trillion won for the third quarter thanks to continuing strong performances of its chip business.