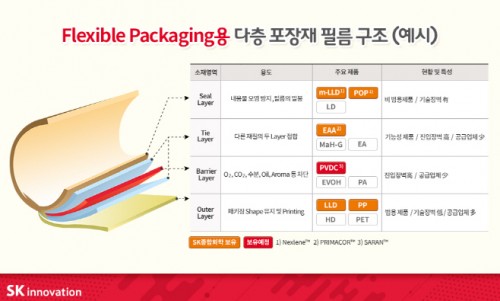 Multi-layer packaging film structure/ Source: SK Innovation

By AsiaToday reporter Moon Noo-ri
South Korea's leading oil refiner SK Innovation has acquired Dow Chemical's polyvinylidene chloride (PVDC) business through its affiliate SK Global Chemical. It's the second M&A in the chemical business this year. The move comes after Chey Tae-won, the chairman of SK Group, called for a constant innovation under the Deep Change 2.0 strategy, such as diversifying its business portfolio, at a management meeting back in June.
SK Innovation said Wednesday that its affiliate SK Global Chemical has signed a deal to buy Dow's PVDC unit. Early this year, SK Global Chemical took over Dow Chemical's ethylene acrylic acid (EAA) business for US$370 million.
PVDC is one of the barrier film materials, which is a core part of the high value packaging material industry. It blocks external moisture and oxygen to prevent decay and deformation of contents. SK Global Chemical will acquire Dow's trademark rights of SARANTM as well as its production, manufacturing and intellectual property in Michigan. The deal is estimated to be worth US$100 million.
SK Global Chemical has strengthened its packaging lineup as it acquired the PVDC business following EAA, which is mainly used as an adhesive for packaging materials. The company is moving away from its petrochemical-oriented portfolio and is developing its own high-value-added chemical products while being aggressive in takeovers. It plans to focus on China, which is emerging as the world's largest packaging material market, based on its network and infrastructure.
"We will concentrate our efforts on securing diverse product lines and technological capabilities centering on high value-added packaging materials and automotive materials, which are the next generation growth drivers," said Kim Hyung-gun, president of SK Global Chemical. "We aim to become a top player in overseas markets by focusing on R&D and M&A."
SK Innovation is putting a lot of effort for "deep change" by concentrating on automotive and packaging materials, which are expected to be the next growth engine for the chemical business. The company has previously announced its plan to turn SK Global Chemical into one of the world's 10 largest chemical companies by 2024.