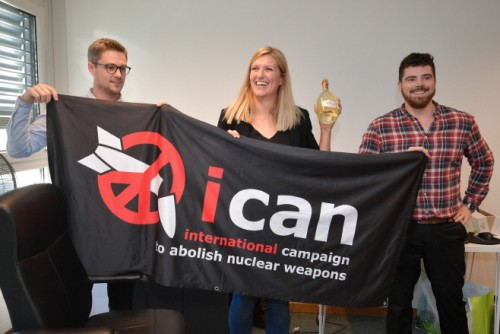 The Norwegian Nobel Committee has named the International Campaign to Abolish Nuclear Weapons (ICAN) the winner of the 2017 Nobel Peace Prize on Friday the Oct. 6. The photo shows ICAN executive director Beatrice Fihn (center) and coordinator Daniel Hogsta (left) celebrating after winning the Nobel Peace Prize in Geneva on Friday./ Source: Yonhap News

By Tokyo correspondent Um Soo-ah
The 48th Japanese general election has been announced on Tuesday. The election will be taking place after Japanese leader Shinzo Abe dissolved parliament's lower house on Sept. 28, citing North Korea's nuclear and missile tests. But there are still many who question the cause of the dissolution.
Besides, the awarding of the 2017 Nobel Peace Prize to an anti-nuclear campaign NGO on Oct. 6 have made the Japanese government's nuclear policies an object of criticism and it is expected to affect the country's election.
Japan-based NGO Peace Boat founder Tatsuya Yoshioka, who has been part of ICAN since its foundation, held an award briefing session with the survivors of atomic bombings on Monday, and said, "Unfortunately, the Japanese government is ignoring the Non-Proliferation Treaty. I would like to vote for a party in favor of the nuclear ban treaty."
According to a Kyodo News poll that surveyed 948 candidates confirmed by last Sunday, 39.6% of the ruling Liberal Democratic Party candidates support U.S. military action against North Korea, followed by the Party of Hope (21.3%) and Komeito (3.6%). In addition, 77.5% of the conservative Japan Restoration Association candidates and 9.3% of the progressive Social Democratic Party of Japan (SDPJ) candidates said they back U.S. military action.
Although it was under the condition that if nuclear and missile issues could not be resolved peacefully, more than half of the candidates were negative about military action unlike Abe, who has been calling for a strong response. It's due to concerns that North Korea's nuclear provocations and the U.S.'s punishment will be eventually evaluated as a nuclear war.
Japanese media outlets consider that the awarding of the prize to ICAN serves as a tribute to the survivors of the atomic bombings of Hiroshima and Nagasaki. NHK reported in detail that atomic bomb survivors welcomed the awarding of Nobel Peace Prize to ICAN.
In fact, Japanese atomic bombing survivors are working with ICAN, a coalition of NGOs and made up of about 470 groups. Beatrice Fihn, head of ICAN, expressed her appreciation for the courage and support of the survivors of the atomic bombings, known as hibakusha in Japanese.
ICAN said the award is a warning not only against North Korea, but also the world's nuclear-armed states, Japan, and other countries under the U.S. nuclear umbrella.