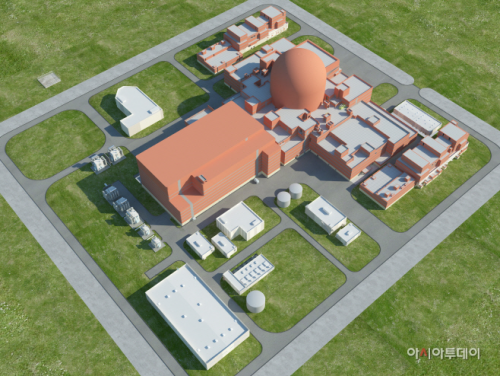 An eagle's eye view of EU-APR/ Source: Korea Hydro & Nuclear Power Co Ltd (KHNP)

By AsiaToday reporter Choi Jung-won
South Korea's next-generation reactor model has finally gained European approval. As a result, domestic nuclear power plant operator will be able to diversify its exports to Europe, South Africa and Egypt.
Korea Hydro & Nuclear Power Co Ltd (KHNP), a nuclear reactor operator that is part of state-run utility Korea Electric Power Corp (KEPCO), said on Monday that the standard design of the EU-APR, the European export-type of its APR 1400 reactor, has been approved by the European Utility Requirements (EUR).
The EU-APR standard design is based on the European safety standards for the APR 1400, which is being built in Korea and the United Arab Emirates. Gaining the EUR approval will allow KHNP to build the European compliant model in countries that require EUR certification outside of Europe, such as South Africa and Egypt.
The EUR certification is a review of requirements by EUR for safety and economics before the new model is built in Europe. Consisted of 14 nuclear power plant operators in 12 European countries, the technical advisory group standardizes the design of new nuclear power plants and defines the technical background for ordering.
The Korean nuclear industry, such as KHNP, KEPCO E&C, and Doosan Heavy Industries & Construction, officially applied for the EUR approval and received a preliminary evaluation over two years. In November 2015, KHNP began its main examination and received the final certification after 24 months, the fastest among those reactor operators that applied for EUR approval.
With this EUR approval, KHNP hopes to win orders from Europe as the demand for new nuclear power plants to replace existing reactors has increased in the UK, Czech Republic, Sweden, Poland and more.

Lee Kwan-sup, CEO and president of KHNP, said, "The EU approval of the EU-APR has let the world know the excellent technology of South Korea and raised the brand value of domestic nuclear power plants. We will strive to establish a strategic partnership with European operators to enter the European market."