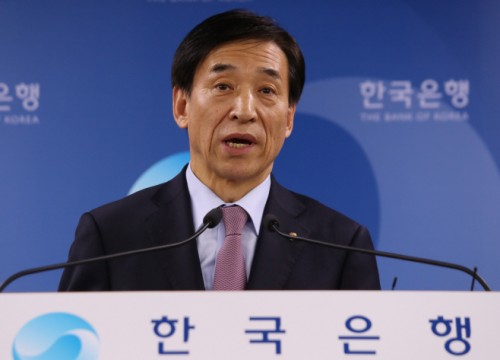 Source: Yonhap

By AsiaToday reporter Im Cho-rong
The chief of South Korea's central bank said that the North Korean nuclear risks and the monetary policies of major economies should be closely noted.
"North Korean risks and the currency policies of major economies are still the issues that South Korea needs to pay attention to the most as in the August monetary policy direction," Bank of Korea Gov. Lee Jun-yeol told reporters on Friday in Incheon.
Last month, North Korea conducted a nuclear test and a series of ballistic missile tests, facing sanctions by the UN-centered international community. Then there was a war of words between North Korean leader Kim Jong-un and U.S. President Donald Trump, raising tensions between the North and the U.S.
"Financial market volatility has increased recently due to the North Korean risks. But fortunately, the negative effects on the real economy have not yet had an impact in the indicators. If risks continue to escalate, financial market volatility could increase further and could weaken consumer and business sentiment," Lee said.
In the case of monetary policies of major economies, the US Federal Reserve said it would begin in October to reduce its assets in its FOMC statement on September 20. FOMC members' expectations for rates have not changed significantly. Federal Reserve Board Chair Janet Yellen also said that the US central bank will continue to steadily raise interest rates even if the problem of inflation takes place.
The European Central Bank (ECB) has also agreed last month to terminate its asset purchase program (APP) in the near future. The Bank of Canada also raised its benchmark interest rate back in July and September.
"Such moves of monetary policies by major economies reflect their economies' recovery. Monetary policy normalizations by major economies could increase geopolitical risks surrounding us and volatility in financial markets," Lee said.
For this reason, the BOK plans to inspect trends in the international financial market. Lee said, "The BOK executives are monitoring the financial market situation every day, and are taking measures for stable liquidity management."
As for the direction of interest rate in South Korea, he agreed with Federal Reserve Board Chair Janet Yellen, who said that the problem of inflation will take place without a further rate hike. "Even if the inflation rate is low, relaxation adjustments can be considered as long as the inflation rate is expected to reach the target level in the medium term."