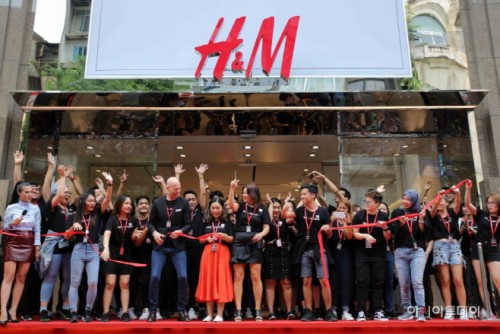 Swedish fast fashion brand H&M holds a ribbon-cutting ceremony to mark the opening of its first Vietnamese store in Ho Chi Minh City./ Source: H&M's official website

By AsiaToday reporter Noh Ka Young
Vietnam has become a magnet for international fast fashion brands thanks to its huge youth population and rapidly increasing income.
Global fashion brand H&M has opened its first store in Ho Chin Minh City's Vincom Center shopping mall on Sept. 9. More than 4,000 shoppers queued for the grand opening of H&M's very first store in Vietnam, garnering a lot of attention.
A year ago, H&M's rival brand ZARA also opened a store right next to H&M store, Vietnamese media VN Express reported on Sept. 20. In addition, global fast fashion brands, such as Uniqlo, Topshop, and Mango are rushing to set up shop in the country. Fast fashion brand refers to a fashion brand that mass-produces and sells inexpensive clothing by rapidly copying the latest trends.
Vietnam has been widely known as a clothing producer rather a consumer. It is one of the top five textile and clothing exporting countries, with textile contributing about 10% of the country's GDP. Since its labor costs are half those of China's, some of the world's leading apparel producers, such as Pierre Cardin and Japan's Aoyama Trading, are working with local companies to make Vietnam a base for clothing production.
But the situation has reversed recently, as the Vietnamese economy grew rapidly and GDP per capita reached $2,300, the Nikkei Asian Review said. Vietnam's purchasing, rather than exporting, has come into the spotlight among the global fast fashion brands.
Vietnamese consumers are increasingly focusing on quality rather than price as a result of increase in per capita income and purchasing power.
The high proportion of millennials in Vietnam's population is also an important reason why global fast fashion brands are eyeing Vietnamese market. The millennials (aged 15-35 years old) account for a third of the population. They are very interested in their appearance, well aware of the latest trends in the world through social media, and have the desire to buy foreign apparel brands.
Thuy Linh (26), a PR staff at the leading Vietnamese consulting firm Le & Brothers, is a passionate trend follower who spends about VND6 million (US$264) per month buying cosmetics and clothes. Linh likes to follow fashionistas to see and follow their fashion style. "The outfits of H&M and Zara suit me because the designs are simple and do not show too much skin," Linh said.
Le Thai Son, an entrepreneur in the fields of food and entertainment, also likes to wear Zara clothes. Being born in the late '90s, Son said, "30% of my wardrobe is occupied by Zara clothes and there are some H&M products also." In the past, Son either bought the items on trips abroad or ordered from the brands directly. "When I next have a business trip in Ho Chi Minh City, I will definitely visit H&M and Zara."
The prices of fast fashion apparel brands are somewhat higher than those of local apparel products. However, for young people who have stable jobs like Linh and Son, the prices of H&M and Zara products are not burdensome.
Based on the popularity among young people, global fast fashion brands are directly entering the Vietnamese market without going through third agencies.