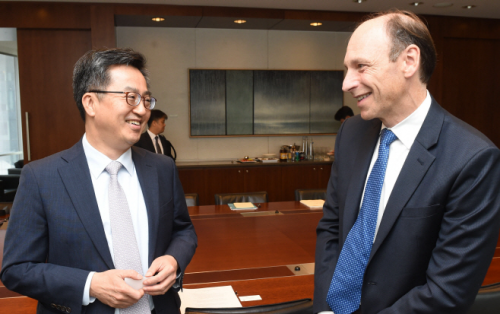 South Korea's Deputy Prime Minister and Finance Minister Kim Dong-yeon, who is in the United States to attend a meeting with top U.S. business leaders and investors, speaks with Moody's Vice Chairman Richard Cantor at the credit rating company's New York headquarters on Tuesday./ Source: Yonhap News

By AsiaToday reporter Kim Dong-hyun
Accompanying South Korean President Moon Jae-in on his visit to New York, Deputy Prime Minister and Finance Minister Kim Dong-yeon has come forward to assure that South Korea's market remains strong.
Kim arrived New York on Wednesday to meet with top executives at Moody's in New York, including Vice Chairman Richard Cantor and Moody's Investors Service President Robert Fauber, to share views on the South Korean economy as well as the global economy for about 80 minutes.
This is the first visit for a deputy finance minister to visit the headquarters of an overseas credit rating agency since deputy finance minister Lee Heon-jae's visit in 2004. Besides, it is the first time to meet top executives of a credit rating company, such as vice chairman and president.
Kim visited the Cheong Wa Dae press center in a local hotel in New York on Wednesday to convey the behind story. "I met with the management of the credit rating company to share views on the recent response to the North Korean risk, the maintenance of the foreign credibility and the direction of the new government's economic policy. It was very productive and nice. The attendance of the vice chairman and the president reflect the company's deep interest in the recent South Korean economy," he said.
"Moody's asked questions about the Korean government's view on the recent geopolitical risks related to North Korea and the direction of its policy. While emphasizing that South Korea has a lot of international experience in innovation growth and technology development, they expressed great interest in Korea's innovation growth in the future."
"Moody's expressed gratitude toward our government's active communication efforts and detailed explanation, and showed a positive response. In addition to responding to Moody's inquiries, I also asked questions about their thoughts on the South Korean government, new policy directions, and North Korean risks in behalf of the government. It was a very productive meeting."
He revealed that international credit rating agencies, international organizations, and other investment banks are very positive about the South Korean economy. He said, "International Monetary Fund (IMF) said that Korean economy will likely to grow 3% this year. Moody's is also very positive about Korea's growth and financial conditions as well as the direction of the Korean government's economic policy."
However, the finance minister revealed that Moody's was concerned about the impact on the Korean economy if the Chinese economic growth falls from now, along with the North Korean nuclear risks. "I expressed sympathy with their view. I explained them that by undergoing several challenges, the Korean economy not only learned that it should strengthen cooperation with China but also Southeast Asian countries, India, and other countries to overcome challenges. Moody's shared the same opinion on the matter."
Minister Kim is scheduled to visit S&P on Thursday.