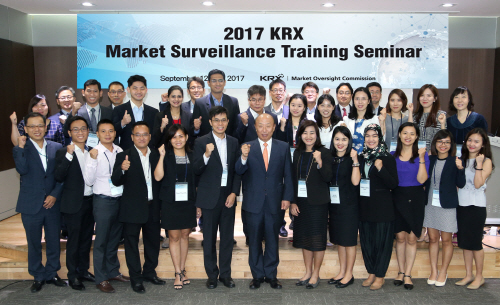 KRX to provide market surveillance training seminar to major Asian countries

By AsiaToday reporter Jang Jin-won
The Korea Exchange (KRX) is transfering its know-hows in self-regulation, including market surveillance, to major capital markets of Asian countries through the "Market Surveillance Training Seminar", which is held by the KRX Market Oversight Commission on Sept.12-15.
The Market Oversight Commission of the Korea Exchange is a good example of a self-regulatory body in Korea. In addition to controlling and supervising the capital market in general, it's also responsible for the supervision of its stock firm members, market surveillance, and settlement of disputes between securities companies and investors. It's a concept that contrasts with the public regulation, where the government authorities, such as Financial Services Commission (FSC) and Financial Supervisory Service (FSS), are the supervising bodies.
According to the KRX on Wednesday, the seven exchanges from five countries are participating in the seminar: China's Shanghai Stock Exchange and Shenzhen Stock Exchange, Vietnam's Hanoi Stock Exchange and Hochiminh Stock Exchange, Stock Exchange of Thailand, Indonesia Stock Exchange, and National Stock Exchange of India. The seminar, led by the KRX Market Oversight Commission, is the first event aimed at all self-regulatory organizations in Asia.
The KRX Market Oversight Commission said that there was a request for training on the KRX market surveillance system from Asian self-regulatory organizations that attended the 1st Asian Self-Regulatory Organization Forum last year. The commission announced its plan to hold a training seminar and officially invited the forum members during the second forum held last April in Mumbai, India.
The participants of the seminar will be trained in the overall work of the market surveillance committee, such as market surveillance of stocks and derivative markets, supervision and dispute settlement. In addition, a special session will be held based on the participants' individual requests, including education on stock trading system, listing and disclosure, as well as derivative market system and EFT.