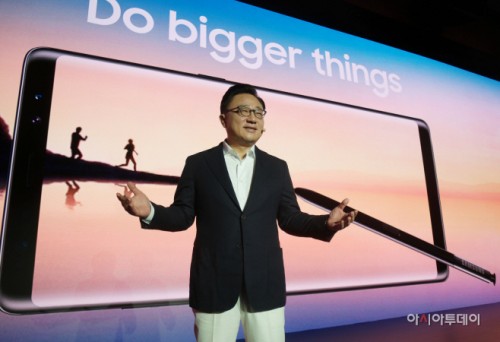 Koh Dong-jin, president at Samsung Electronics' mobile unit, introduces Galaxy Note 8 smartphone during a media event in Seoul, Tuesday, Sept. 12./ Source: Samsung Electronics
By AsiaToday reporter Kim Min-soo
Samsung said pre-orders reached about 650,000 Note 8 smartphones over five days, about 2.5 times the figure for its predecessor Note 7 and the highest record among Note series. Samsung will receive pre-orders in domestic market until Aug. 14, and then officially launch the product on Aug. 15. The Note 8 will compete with Apple's 10th-anniversary iPhone models, which will be revealed on Aug. 12.
"Since the unpack of Galaxy Note 8 last month, we started to receive pre-orders from about 40 countries. The Note 8 has hit the highest-ever for the Note series," Koh Dong-jin, president of Samsung Electronics' mobile communications business, said at a media event held on Tuesday.
Samsung received 395,000 pre-orders for its Galaxy Note 8 on the first day of pre-orders. "The 395,000 units sold on the first day of pre-orders is a higher-than-expected figure. The figures for the first five days show that pre-orders are about 2.5 times those of the Note 7 last year," said Koh.
"The Galaxy Note 7 drew in 400,00 pre-orders over 13 days, and the Galaxy Note 8 received 650,000 pre-orders in five days. We expect the figure to reach the 800,000 mark in eight days," said Kim Jin-hae, managing director of Korea sales.
The company also shared its plan to work with Harman, to launch a foldable smartphone and Bixby 2.0.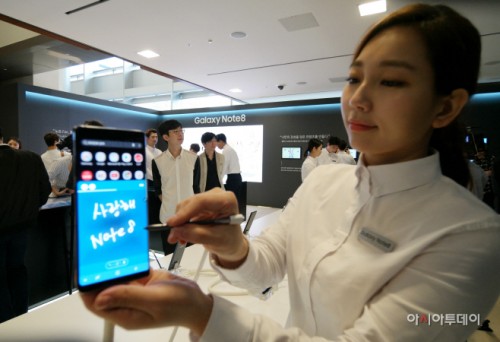 The model introduces Galaxy Note 8 during a media event in Seoul, Tuesday, Sept. 12./ Source: Samsung Electronics
Koh said that the company is working with Harman to develop a smart speaker. "We are planning to develop an artificial speaker with Harman. There is substantial cooperation between the working groups. We will come up with good products."
Koh also said Samsung is overcoming technological difficulties in order to launch a foldable smartphone next year. " We aim to launch a foldable smartphone next year. But there are several hurdles it has to overcome before a decision can be made."
He also made it clear that a next version of Bixby is coming. "We are preparing for Bixby 2.0 by complementing the insignificant part of Bixby 1.0. The most important task is to build a Bixby ecosystem by attracting developers."