By Hong Soon-do, Beijing correspondent, AsiaToday
North Korea says it will launch a missile as part of self-defensive measures if harsh sanctions are agreed at a United Nations Council meeting in New York Monday. As a result, the question of whether the approval of the UN resolution and North Korean missile launch will take place one after another has become a pressing matter. If both events take place, tensions are very likely to reach an extreme pitch in the Korean Peninsula.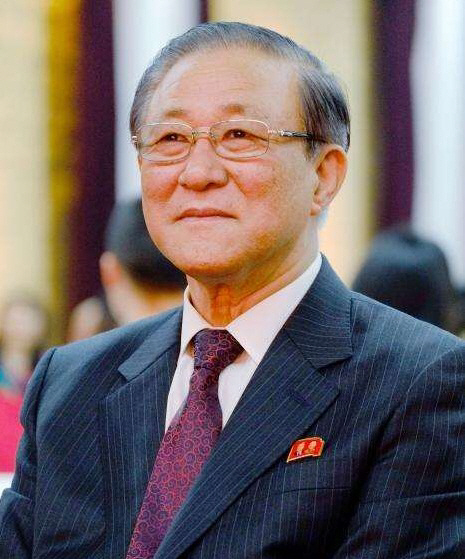 North Korean ambassador to Beijing Ji Jae-ryong threatened U.S. and South Korea to launch more missiles during a ceremony to celebrate North Korea's founding on Saturday./ Source: CNS
According to Beijing's North Korean sources on Monday, North Korean ambassador to Beijing Ji Jae-ryong has first mentioned the possibility of launching a new missile. At a ceremony commemorating the 69th anniversary of North Korean founding held at the embassy on Saturday, he said, "If the US-drafted resolution is approved, we have no choice but to launch a missile towards the United States. This will leave the U.S. in a difficult situation." He continued, "If the U.S. responds, we will launch missiles on the South as well as Japan." He added that both South Korea and Japan would never be safe from missiles. A senior Chinese official, who attended the ceremony, said, "Even at the meetings with foreign guests, the ambassador expressed his willingness to launch a missile if further UN sanctions are agreed. I think he probably received a definite order from his home country."
The statement issued by the North Korean Foreign Ministry early on Monday seems to be an extension of the ambassador's remarks. "If the U.S. eventually does rig up the illegal and unlawful resolution on harsher sanctions, the DPRK shall make absolutely sure that the U.S. pays due price," the spokesman said in the statement, referring to the country by its official name the Democratic People's Republic of Korea (DPRK). "The DPRK is ready and willing to use any form of ultimate means," the statement said. "The forthcoming measures to be taken by the DPRK will cause the US the greatest pain and suffering it had ever gone through in its entire history."
Judging by the current mood, North Korea is highly likely to launch its intercontinental ballistic missile (ICBM), Hwasong-14, as its last measure if new restrictions on the North are approved. In this case, the Hwasong-14 may reach Hawaii, Alaska, and Seattle. However, the UN resolution is expected to be rejected by at least one country, either China or Russia.