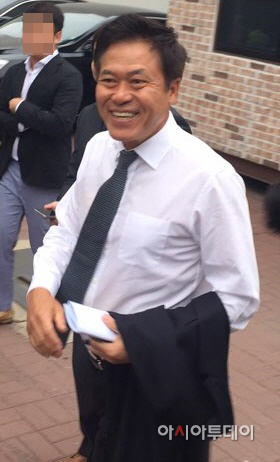 SK Telecom CEO Park Jung-ho attends a breakfast meeting with Korea Communications Commission (KCC) chief Lee Hyo-seong and heads of two other telecom companies held near Gwanghwamun, Seoul, on Sept. 6./ Photographed by Kim Min-seok (@Idjima)
By AsiaToday reporter Kim Min-soo

SK Hynix is paying close attention on the negotiations between Toshiba and Western Digital (WD) over Toshiba Memory takeover deal. Toshiba will hold a board meeting on Wednesday to review WD's proposal. Based on the results of the board meeting, SK Hynix CEO is expected to head to Japan again for the final negotiation.
SK Telecom CEO Park Jung-ho told reporters Wednesday, "We will have to look at the results of Toshiba's board meeting. I may have to go to Japan again based on the results of the meeting."
According to Japanese media reports, WD has put forward a new offer for Toshiba's flash memory arm on Tuesday to only acquire stakes that would not give the company a direct voice in management. If Toshiba accepts WD's offer, the two companies are likely to sign for the final contract.
According to Nihon Keizai Shimbun and other Japanese media outlets, WD has proposed to found a special purpose corporation (SPC) centered on three companies, including US private equity firm Kohlberg Kravis Roberts (KKR), Innovation Network Corp of Japan (INCJ), and the Development Bank of Japan (DBJ). The proposal was that the SPC would finance 2 trillion yen, instead of WD's initial proposal of 150 billion yen investment.
The move seems to be made in consideration of antitrust regulations. This goes the same with the way SK Hynix participated in the S. Korea-U.S.-Japan consortium. Toshiba has been concerned about the possibility that the takeover will not be completed by next March if WD takes stakes in Toshiba Memory to directly engage in management, delaying antitrust law review.
WD has reportedly offered Toshiba to go for indirect investment by forming an SPC in exchange for a larger share of chip production capacity at fabrication facilities in Yokkaichi, Japan, in which it jointly operates with Toshiba.
Currently, Toshiba owns 60% of the Yokkaichi plant's production equipment, while WD owns 40%. Since 2009, the two companies have produced and distributed memory chip outputs in proportion to their production facility ownership.
The industry insiders believe that WD decided to increase its share of output with global memory supply tight.
Meanwhile, Toshiba is still considering the proposed merger of a South Korean-American-Japanese consortium including SK Hynix and Bain Capital.