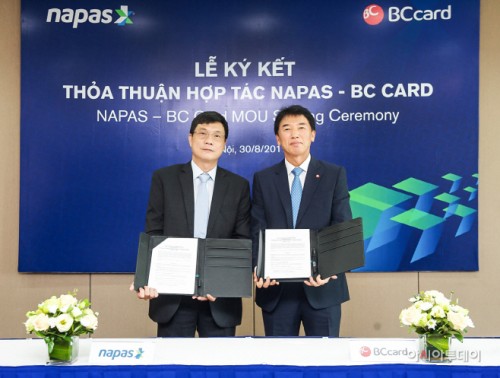 BC Card President Chae Jong-jin (right) poses for a photo with Le Quoc Hung, president of National Payment Corporation of Vietnam (NAPAS) after signing a MOU at NAPAS headquarters in Hanoi, Vietnam, on August 30./ Source: BC Card

By AsiaToday reporter Bae Ji-yoon
BC Card announced Wednesday that it has signed a memorandum of understanding (MOU) on payment business with Vietnam's National Payment Corporation of Vietnam (NAPAS).
The MOU signing ceremony was held Wednesday at the NAPAS headquarters in Hanoi, Vietnam, with BC Card President Chae Jong-jin, NAPAS chairman Nguyen Tu Anh, NAPAS president Le Quoc Hung, and BC Card Global Head Lim Nam-hoon in attendance.
With the latest MOU, BC Card will cooperate with the Vietnamese payment service provider for the development of a cashless economy, which is the project of the State Bank of Vietnam (SBV), and to transfer money between Korea and Vietnam.
"The partnership with NAPAS, the leading infrastructure company in Vietnam that will boost economic growth of ASEAN countries, is very significant. We will contribute to the development of the Vietnamese card market based on our various payment solutions and platform operating know-how," said Chae.
Established in 2015, NAPAS is the payment service provider licensed by the State Bank of Vietnam. It provides financial payment services to 43 banks in Vietnam and 100 million customers through 2.2 million franchises, 270,000 POS and 17,000 ATMs.
Currently, more than 80% of consumers in Vietnam are using debit cards issued by local banks. The SBV and NAPAS are seeking ways to reduce the number of cash payments to account for less than 10% of total market transactions by 2020.