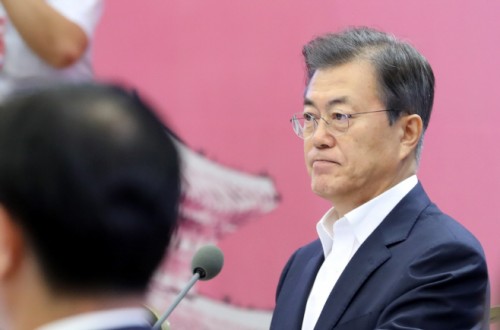 President Moon Jae-in presides over "Key policy discussions of the Ministry of Industry, the Ministry of Environment and the Minstry of Land, Transport and Maritime Afffairs" held at the Sejong Government Complex in Sejong City on Aug. 29./ Source: Yonhap
By AsiaToday reporter Kim Dong-hyun
President Moon Jae-in condemned North Korea's missile provocations that flew over Japan Tuesday in strong terms while maintaining his policy stance to engage in dialogue.
Moon said, "North Korea made a missile provocation even today. But the more it does, the more we must work harder to make a big change in the inter-Korean relation. I ask the National Unification Advisory Council to play a big role." His remarks came in a ceremony on Tuesday morning at the presidential office Cheong Wa Dae to appoint Kim Dyuk-ryong as the new vice chairman of the National Unification Advisory Council.
Earlier, Moon ordered the country's military to display a strong capability that can overwhelm North Korea. That demonstration involved four F-15 fighters dropping eight MK-84 bombs that hit targets at a military field near the country's eastern coast.
With this demonstration, Moon warned of a strong punishment against the North while stressing his principle of not closing the door of dialogue with the North at the same time.
Since the North Korean provocation is based on its typical attempt to negotiate directly with the U.S. by raising tensions to the highest level while intentionally ignoring the South, President Moon is showing his willingness to maintain a consistent message both at home and abroad without being disturbed by the intention of the North in order to manage the situation on the Korean peninsula.
Moon called for active role of the unification advisory council to create a friendly atmosphere with the North, saying, "The National Unification Advisory Council is an important constitutional body that discusses about the improvement and development of inter-Korean relations and gathers national consensus for it. But it's true that it has failed to show its presence due to the tightened inter-Korean relations for the last decade."
In response, Kim Duk-ryong said, "I will contribute to the peaceful prosperity of the Korean peninsula and the improvement of inter-Korean relations by handling the advisory council and its role well."