By Hong Soon-do, Beijing correspondent, AsiaToday
The situation of Chinese and Taiwanese youth is reversing recently. At the beginning of the century, the young people in the mainland went to China for better jobs, but now it's completely contrary and the reversal case is becoming so natural. Moreover, this situation is likely to be fixed in the future, and it seems certain that choosing to work in China will become a trend among young Taiwanese.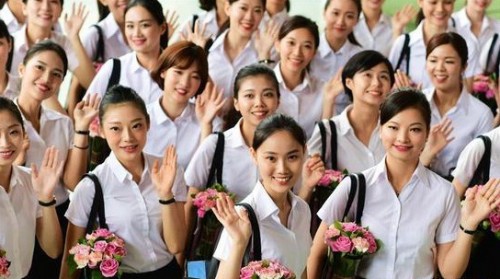 The new Taiwanese cabin crew of China's XiamenAir. The salary and employment conditions in China are known to be much better than Taiwan./ Source: Xinhua News
According to Beijing sources on Monday, this can be proved by statistics. Among 720,000 Taiwanese young adults who moved overseas for better job opportunities, 58.3% of them are working in China. Considering that most of them are younger than 35 years old, it's not hard to imagine how the situation is.
What's even more shocking is that nearly 70% of them are high-quality human resources with an undergraduate degree or higher. This means that Taiwan is suffering a serious brain drain, with China as the main beneficiary. Moreover, many of those young Taiwanese, who had led the student movement calling for Taiwan's independence for the past several years, have gone to China for better job opportunities. Although they insisted that Taiwanese people should stand up against China, they have chosen to give up their ideal after facing with the harsh reality of graduation. We should also mention that many young Taiwanese stewardesses, who are one of high-quality human resources, have started to move to China to chase careers since China's XiamenAir hired 35 Taiwanese stewardesses recently.
There are reasons why young Taiwanese are heading to China. The biggest reason is Taiwan's economy that has not been able to come out of recession for more than a decade. It's natural for Taiwanese youth to turn eyes to China that offers better job opportunities instead of being unemployed. Currently, a university graduate could expect an average monthly salary of around TW$28,300 (US$939.1) in Taiwan. Meanwhile, a good company in China could offer an average monthly salary of around 7,000 yuan (US$1,051.80). Given the fact that prices in China are much lower than in Taiwan, the value of 7,000 yuan is certainly higher. Besides, Chinese companies are actively alluring Taiwanese youth to the mainland.
The gap between the Chinese and Taiwanese economy keeps widening. And it seems certain that Taiwanese youth will continue to pick China for jobs in the near future.