By Hong Soon-do, Beijing correspondent, AsiaToday
South Korea and China are certainly close neighbors, like France and Germany. Although North Korea is in the middle, it really is, in a broad sense. Therefore, it would have been strange if their relations had not developed so much considering the fact that this year marks the 25th anniversary of the establishment of diplomatic ties between the two.
In fact, their bilateral trade volume sharply jumped over 33 times in the past 25 years, according to KOTRA Beijing Korea Trade Center on Monday. In 1992, the first year of diplomatic relations, their bilateral trade amounted to only $6.5 billion. However, it reached $211.4 billion last year. As a result, China has emerged as Korea's largest trading partner.
The trade balance is overwhelmingly dominated by Korea. Last year, its trade surplus reached $37.5 billion. This is 42% of the country's overall trade surplus of $89.2 billion, which seems to remain unchanged for a long time. It's possible to predict that China will continue to be the country's largest trade surplus country. Naturally, its dependence on China for its exports will inevitably rise. Korea's export dependence on China increased to 25.1% last year from 10.7% in 2000. In contrast, China's export dependence on Korea remained little changed at 4.5% of its overall shipments during the same period.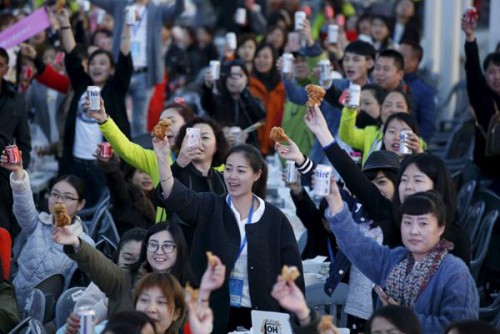 A large group of Chinese tourists at a massive chicken & beer party held by Incheon in March before the THAAD conflict. It seems to reflect the 25 years of Seoul-Beijing relations./ Source: China Annual Report
The explosive growth of human exchanges is just stunning. As of last year, 7.95 million Chinese visited Korea and 3.65 million Koreans visited China, which was 11 million in total. The number skyrocketed up to 120 times compared to 1992.
Naturally, Koreatowns are formed all over China. Wangjin is the famous Koreatown in Beijing. With the massive development that started at the end of last century, Koreans flocked in and formed the Koreantown. It's home to about 50,000 Koreans working in various fields. Xita in Shenyang, Chengyang in Qingdao, and Gubei in Shanghai are also famous Korean communities in China. Park Yong-hee, the former president of Beijing SME Council and the current director of DA Architectural Firm's Beijing office, said the Korean community has grown fast in the past 25 years, saying, "The Terminal High Altitude Area Defense (THAAD) conflict is reducing the number of Korean residents, however it is estimated that some 800,000 Koreans are currently in China."
As a result, there are many success stories. A good example is Lee Sook-soon, the president of Dayi Hanri International Seed Co., Ltd.. He made a hit with the seeding business. Other successful cases include former chairman of the China-Korea Association Chung Hyo-kwon, who was listed as one of the richest people in the Chinese version of Forbes with his medical device business, Lee Ki-young, the president of Korean restaurant chain Papas, and Bae Young-yoon, the president of Wolsey China. In particular, Bae Young-yoon launched several European brands in China, making a big business. This seems why so many Koreans flew to China not so long ago, thinking that China would be El Dorado.