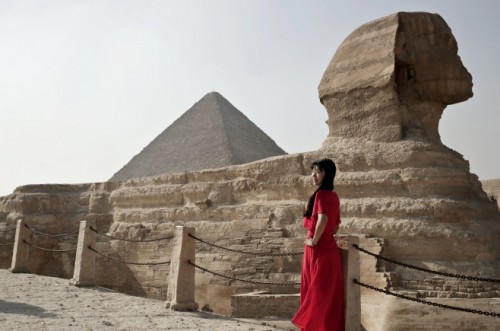 Source: AP, Yonhap
By AsiaToday reporter Jisu Kim
Asian millennial travelers armed with digital tools are changing the travel trends with "personalized agendas." And they are the driving force behind the current solo travel boom.
Airbnb, the largest global home-sharing rental platform, is planning to hire additional personnel to its engineering team in China. In the next 12 months, its technical staff in Beijing will be quadrupled to more than 100. The expansion in China is aimed at catching up with the explosive growth in demand for Chinese millenials, Airbnb co-founder Nathan Blecharczyk told Bloomberg recently. Earlier in March, the home-sharing giant had already said it would double its investment in China and triple the number of employees in its China branch to 300. This move is intended to keep pace with over 400 million young Chinese people's tastes for independent travel.
According to Nikkei Asian Review, Chinese millennial travelers are increasingly inclined to prefer a solo trip rather than package tours. Millennials, who can communicate in English and are skilled in using digital devices such as smartphones, can make their own travel plans by using various information online.
According to a report released by the United Nations World Tourism Organization (UNWTO) in April, China has been ranking number one in terms of outbound tourists since 2012. 135 million Chinese tourists traveled abroad last year and spent $261 billion while American tourists spent only half of the spending of Chinese tourists.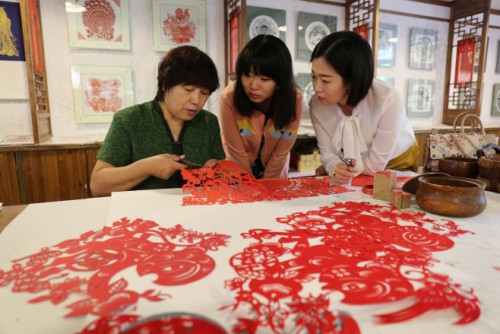 Tourists are learning one of the traditional paper cutting techniques in Chengde, Hebei province, China./ Source: Xinhua News, Yonhap
In particular, solo travel is a growing trend. According to consulting firm Fung Global Retail & Technology, 70.6 million Chinese are independent travelers, accounting for 52% of all outbound trips from China. This is equivalent to the overall outbound travelers from the United States. Only 35% was group tourists. The survey of 800 Chinese tourists found that individual travelers had spent an average of 16,527 yuan ($2,436) on their most recent trip. About 80% of them said they mainly get their travel information through online search, much higher than those in tour groups at 52%. While traveling, 65% used smartphones to search for places to shop.
Millennials tend to consider trips as an important part of their lives and devote much more of their income to travel than previous generations. Instead of group tours, they prefer solo trips where they can plan your own trip even though it costs more money. This phenomenon is spreading not only in China but throughout Asia.
Le Hai, a Vietnamese, plans to travel locally for her own trip. She celebrates her birthday by visiting different destinations in Asia every year. This year, her destination is the highland province of Dak Lak. She set the goal of learning about coffee plantations.
Somsri Sukumpantanasan, who lives in Bangkok, set a personal travel destination. She decided to travel to the Kojima, the denim town in Kurashiki, in search of the origin of her 17-year-old son's favorite jeans upon her son's wishes. The small Japanese town produced jeans for the first time in Japan thanks to its developed textile industry. Along with Momotaro jeans, that they wanted to find, 34 other shops are located in Jeans Street. The Somsri family's choice of transportation to Kojima was the shinkansen bulletin train because she wanted to try out in advance after hearing that Thailand is trying to launch a high-speed train of its own.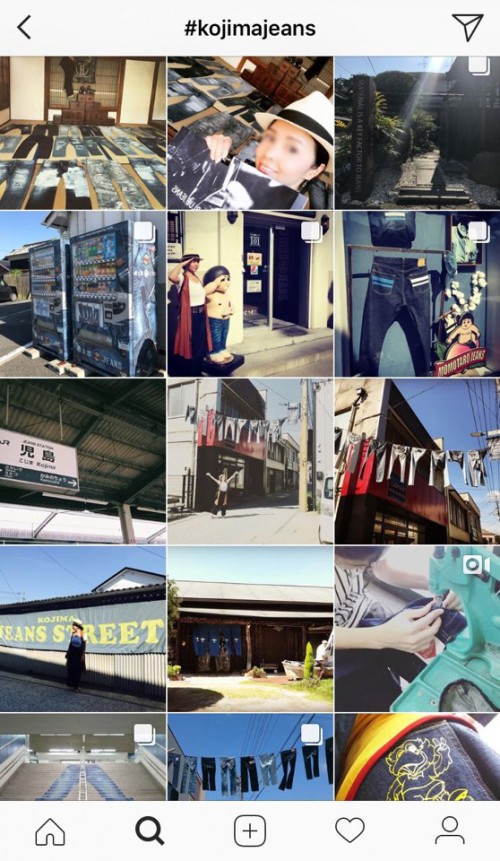 After searching a hashtag "#kojimajeans" on social media. Millennials are actively using these social media travel information in their travel plans./ Source: Instagram
This type of travel is becoming more and more popular as the income of people increases, air fares are cheaper due to the popularity of budget air carriers, and the influence of social media grows. "We were desperate to make the place look fancier, even though we only had a small budget," said Nobuichi Dazai, managing director of the Kojima Chamber of Commerce and Industry. "But it seems that we got it right." As Jeans Street became famous through word-of-mouth online, about 150,000 people now visit the place every year. The town plans to build another hot photo spot by setting up a jeans-themed public toilet with a budget of 15 million yen.
Malaysian novelist Sharifah Nurilyana Syad Fesal visits tourist sites and posts related travel tips for her followers on Facebook and Instagram, many of whom are Muslim, like her. Recently, she visited Gokayama, a small village in central Japan famous for its traditional thatched-roof houses, and posted related information on the social media. She said, "I give all the information about souvenirs in the store, how much they cost. I can post information about how to drive here by car, and if you don't have a car, how to come here by other means."
In fact, social media has become the most important source of information and a means of searching for solo travel. The Pacific Asia Travel Association (PATA) surveyed Asian millennials and found that social media and word-of-mouth were the most important factors in choosing where to travel.