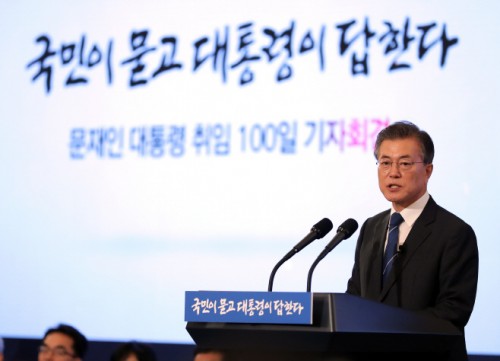 President Moon Jae-in holds a press conference at Cheong Wa Dae marking the 100th day in office Thursday./ Source: Yonhap News
By AsiaToday reporter Son Ji-eun
President Moon Jae-in's press conference on Thursday to mark his 100th day in office took place in a way never attempted before by previous governments. Moon avoided "fake" press conferences, where journalists sent their questions to Cheong Wa Dae officials in advance so that president can have time to prepare and read answers from a script.
Most of all, the number of people invited by Moon to the meeting is the largest ever. Cheong Wa Dae conducted the press conference at the guesthouse, rather than the Chunchugwan press center. All the journalists covering the presidential office were allowed to attend. 189 reporters from local and 28 from foreign media, including CNN and NHK, participated. The meeting was conducted in a way where reporters freely raise their hands, and press secretary Yoon Young-chan would give them an opportunity to speak.
When asked about "personnel", Moon replied with a bright face as if he were confident. To the question about "real estate measures", he paused for a moment, apparently lost in thought. When he was asked about "corruption eradication," he replied aggressively, "I don't think that the investigation and punishment of certain cases and powers is the goal of eradication of corruption."
When reporters kept asking questions even after the scheduled time, Moon looked flustered for a moment. In the end, Yoon permitted to ask two more questions.
After the press conference, the journalists were invited for the first time to see the president's new primary workplace Yeomingwan, an office building where the president's senior secretaries work as well. The event concluded with a meeting hosted by Cheong Wa Dae's chief-of-staff and chief secretary.