By Hong Soon-do, Beijing correspondent, AsiaToday
The Beidaihe meeting, an annual secretive summit of current and retired leaders, is scheduled to end this week. This year's summit is quite meaningful in that it has become a place to elevate the status of Chinese President Xi Jinping the same as other imperial subjects. It's true that Xi Jinping has been ruling as an unprecedentedly powerful leader. But this time, he even cemented his grip on power further. In short, this year's meeting has been a meeting of him, by him, and for him.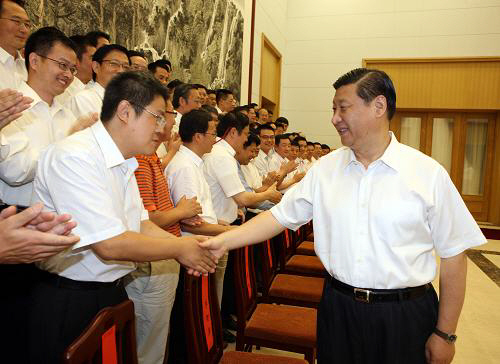 Xi Jinping attended the Beidaihe meeting during his time as vice president of China./ Source: Xinhua News
This is not an exaggeration considering the fact that the issue of including Xi Jinping's guiding ideology in the Constitution of the Communist Party of China (CPC) has been almost confirmed at the meeting in Beidaihe District, a small beach resort of Qinhuangdao in Hebei province. According to Beijing's Western source on Wednesday, the decision was made without any of the attendees' complaints, which was very extraordinary for the meeting. As a result, he is expected to surpass the status of former leaders Jiang Zemin (91) and Hu Jintao (75) and rise to the same level as Mao Zedong. It's nothing strange to see that China is considering abolishment of General Secretary and revive more powerful position - Chairman - instead.
In the same context, Xi's close aides are confirmed to be considered foremost for the upcoming personnel discussion, which will inevitably take place at the 19th National Congress of the Communist Party this autumn. Considering various circumstances, Wang Qishan, Secretary of the Communist Party of China Central Commission for Discipline Inspection; Liu He, Chief of the General Office serving the Leading Group for Financial and Economic Affairs; Li Zhanshu, Director of the General Office of the Central Committee of the Communist Party of China; and Chen Min'er, Secretary of Chongqing are highly likely to take position as members of Politburo Standing Committee or at least members of the Politburo. On the other hand, the next runners of former leaders Jiang and Hu have been excluded.
Originally, China's top leader ruled for 10 years and retired after handing over his position to his chosen successor. It was like a custom as former leaders Jiang and Hu did it in that way. However, it's going to be different with Xi. This is why word went round even before the Beidaihe meeting that the 19th National Congress was going to announce that Xi would bend retirement rules to avoid his retirement after 2022. Whether the meeting is positive or not, it will be remembered as a fairly monumental one in the history of the Chinese Party.