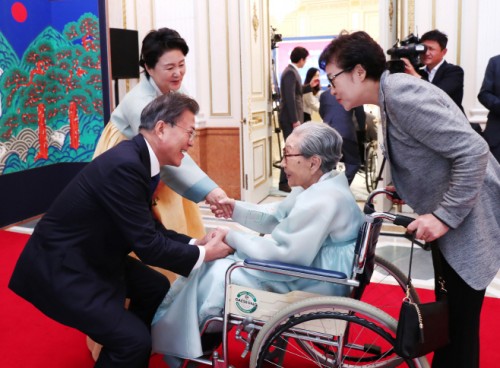 President Moon Jae-in and his wife Kim Jung-sook welcome Kim Bok-dong, a victim of Japanese wartime sex slavery, at a luncheon with independence fighters and relatives held at the reception hall of the presidential office Cheong Wa Dae on Aug. 14./ Source: Yonhap News

By AsiaToday reporter Choi Tae-beom
President Moon emphasized Monday, "There is a phrase that says if you fight for national independence, your offspring for three generations will live poor while if you a pro-Japanese, you are guaranteed wealth and prosperity for up to three generations. I will make that notion go away and make sure that national heroes and their offspring are treated with exceptional respect for three generations."
Moon invited independence fighters and their families to the presidential office Cheong Wa Dae and said, "I think the true patriotism is to make Korea worth being proud of. I will build a nation where the people are in charge following the spirit of independence movement."
The luncheon was attended by some 240 people, including 154 independent patriots and their families, 10 national heroes who received awards directly from the president, 47 descendants of independent patriots living abroad, 1 victim of Japanese wartime sex slavery, 3 victims of imperial Japan's compulsory mobilization and their families.
Moon expressed his gratitude by directly mentioning some names, including Kim Woo-jeon, advisor of the Korea Liberation Association; Robert Ahn, grandson of Korean independence leader Dosan Ahn Chang-ho; Kim Bok-dong, victim of Japan's sexual enslavement; and Choi Han-young, victim of Japan's compulsory mobilization.
"The only unchanging desire of the independence fighters armed with guns, the victims of compulsory mobilization and 30 million people was the liberation of their homeland. In celebration of National Liberation Day, I wanted to treat all of you who prayed for independence a decent meal," he said.
"Everyone here deserves to be treated with the highest respect and gratitude. Thanks to your sacrifice, we are now able to speak and write in our own language, enjoy our culture, and live our precious daily lives."
"One of the most important things the new government thinks is to carry out a proper veteran policy. Veteran policy is a shortcut to strengthening security and integrating the people, while honoring the deceased patriots."
"We have upgraded the Ministry of Veterans Affairs to the ministerial level, and have been making efforts after selecting "A country that that rewards the commitment to the nation" as one of the government's 100 priority tasks."
"As only 58 out of some 15,000 independence patriots and national heroes are alive now, we need to give them a proper reward as soon as possible," he said.
The president said the government will invest 50 billion won (US$43.9 million) to provide financial support to all of the offspring of independence patriots, since such support was only available to the one main descendant.
Moon said, "Korea will mark the 100th anniversary of its foundation in 2019. I promise to build a temporary government memorial hall so that the descendants can remember and respect the spirit of independence movement."