By Hong Soon-do, Beijing correspondent, AsiaToday
China is intensifying pressure on North Korea as crisis on Korean Peninsula is getting more dangerous in August. It seems that China is rushing to actively check the North with the belief that there will be nothing good about it if the tensions between the North and the U.S. actually lead to military clashes.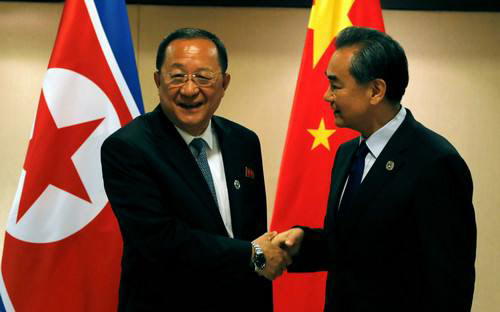 North Korean Foreign Minister Ri Yong-ho and Chinese Foreign Minister Wang Yi. The picture was taken when the both attended the 7th East Asia Summit Foreign Ministers' Meeting./ Source: Xinhua News

Chinese Foreign Minister Wang Yi recently urged North Korea to actively respond to the United States' "Four Nos" principle - in which the U.S. does not seek regime change, the collapse of the regime, an accelerated reunification of the Peninsula or an excuse to send the US military into North Korea. According to the Western sources in Beijing on Thursday, the principle was revealed by the U.S. secretary of State Rex Tillerson at the 7th East Asia Summit Foreign Ministers' Meeting in Manila, Philippines, on August 7. Ri Yong-ho, the North's foreign minister, has not shown a positive attitude in response.
But China's position is completely different. In a way, China views that the 'Four Nos' principle as the most appropriate and well-balanced change in U.S. attitude toward 'peace and stability on the Korean Peninsula', which has been always emphasized by itself. No wonder China is strongly pressuring North Korea to accept it.
China's ambassador to North Korea recently said, "The missile launch test violates the Security Council's resolution on North Korea. China has no choice but to take the same stance as the international community." This remark should be also seen as a part of China's pressure on the North. It's a kind of warning that the North will face more severe sanctions if the North launches additional missiles in the future. It also means that the North should be careful about its Hwasong-12 missile threat on Guam, a US territory in the Pacific.
China seems to be also considering military and economic options if North Korea continues to ignore its advice. In fact, China has recently conducted large-scale military drills in Yellow Sea and the North-China borders. Besides, the sources say that China is also reviewing to cut oil supplies to North Korea for a long time. China's firm attitude won't change if the North does not take enough measures to relieve tension on the Korean Peninsula. Perhaps, the U.S.' complaint that China isn't doing more to stop North Korea is exaggerated.