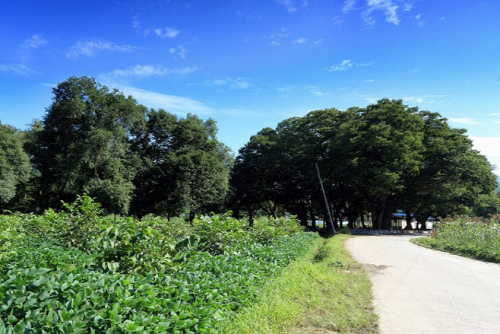 The 320-year old zelkova and elm tree in Dogok-ri village forest, which won the grand prize in the 14th Korea's Beautiful Forest Competition./ Source: Yeongyang-gun
By AsiaToday reporter Kim Jeong-seob
There is a remote mountain village surrounded by Ilwol-san (a.k.a. Ilwol Mountain) in Yeongyang-gum, Gyeongsangbuk-do, which won the grand prize in the 'Korea's Beautiful Forest Competition.' This is where the 320-year-old sacred zelkova tree and the elm tree are standing so that people can pray for well-being and blessing.
On August 5, Dogok-ri residents and those who left their hometown Dogok-ri will get together to hold the annual "Ilwol-san Dogok-ri Village Forest Festival."

According to Yeongyang-gun on Wednesday, Dogok-ri has restored its traditional Korean music "Putgut", which was performed with food by farmers after weeding a rice paddy, into a village forest festival for residents since 2013. The festival, which celebrates its fifth anniversary this year, attracts hundreds of residents and tourists as well as those who left their hometown Dogok-ri in order to share food prepared by the village and play games together.

The festival starts with folk games such as "Puljim-jigi" (carrying grass game), "Ggol-ttamukki" (winning fodder game), "Gamja-samgut" (Hemp-steamed potato activity), and "Geune-tagi" (swinging) in the shade of the village forest. There are also various programs so that villagers can show off their talents and have fun.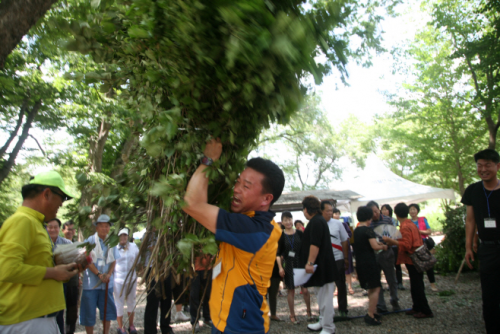 Village residents are playing "Puljim-jigi", one of the most interesting games at the festival./ Source: Yeongyang-gun
On the other side, various black-and-white photographs of memories, calligraphy and poetry works are displayed and many kinds of drawing and writing booths are waiting to help children and families understand the importance of Korean tradition.
"Putgut" is originated from "Putgut-nori", which took place in villages on August 15, the hottest time of the year. On this day, everyone in the village got together with a variety of food such as alcohol, potatoes, rice cakes and such to enjoy the meal together.
However, the tradition faded in most villages as more people moved from the country into the cities. But it has been revived in Dogok-ri as the current "Dogok-ri Village Forest Festival" by combining cultural and art programs since five years ago.
The festival began to take shape as the residents and ex-residents gave various opinions online in 2013. Then a theme song for the festival written by former Dogok-ri resident Kim Yang-hwan and composed by Park So-yoon was created. The festival expenses were collected by both residents and former residents, and they were also in charge of planning and managing the event.
In particular, Dogok-ri Village Forest was awarded grand prize in the "14th Korea's Beautiful Forest Competition" and the residents were actively taking advantage of the forest for cultural and arts events, gradually gaining popularity as a national festival.