By Hong Soon-do, Beijing correspondent, AsiaToday
China is famous for its nationwide preferential policies for 55 ethnic minorities. However, its recent measures are going totally contrary to its policies. It seems to have basically confirmed the principle of following the policies and guidance of the central government through oppression and control. As a result, some ethnic minorities are being forced to choose between compliance and repulsion.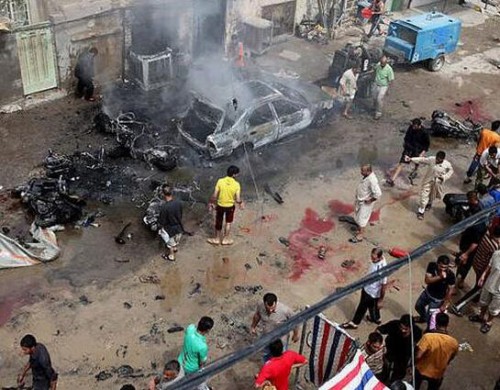 Terror threats in the downtown of Kashgar in the Xinjiang Uyghur Autonomous Region have contributed to the Chinese authorities' suppression and control of ethnic minorities./ Source: search engine Baidu
According to well-informed sources in Beijing on Wednesday, the Xinjiang Uyghur Autonomous Region, also called as China's powder-keg due to the terror threats of Islamic terrorists, is the most representative example. Until a few years ago, only some dissidents opposed to Chinese rule were under surveillance in this region. However, things changed suddenly as the Islamic State's appeal extended beyond the Middle East. As most of more than 10 million Uyghurs started to be regarded as potential threats, they became under pressure and control. The central government forced medical exams and DNA sampling on Uyghur residents. Since they are planning to make a database nationwide, the motive behind the mass DNA sampling is obvious.
In the same context, the authorities have recently ordered local residents to install an app on their phones that will allow the government to monitor their device. They revealed that the reason behind this was to automatically detect terrorist content or illegal religious content, images, e-books or documents stored in phones. In addition, the authorities are also collecting minority groups' passports anytime for investigation, and not allowing overseas travel without any reasons. Recently, a Kazakh man named Saierke Yerexike was sentenced to five years in prison for trying to immigrate to Kazakhstan. It looks like a similar case would take place in the near future.

Some of these measures are also imposed on residents of another powder keg, the Tibet Autonomous Region. China's surveillance measures could eventually spread to all the minority groups in China. H, a Muslim who demanded anonymity, said, "The 21st century is the era of integration. But nationally, there is a strong desire for independence. So did Russia and Eastern Europe. China could do it, too." It seems that preferential policies for ethnic minorities are parts of an older time.