By Hong Soon-do, Beijing correspondent, AsiaToday
The transfer of China's administrative capital is expected to start in the end of this year. The construction project of Beijing's new subsidiary administrative center, which has been planned for over 6 years as a solution to ease capital Beijing's urban problems like overcrowding, is finally making progress and the actual transfer is about to begin at last. As a result, some of the municipal government agencies, party committee, and city council will start to move to Tongzhou, which is located between Beijing and Tianjin.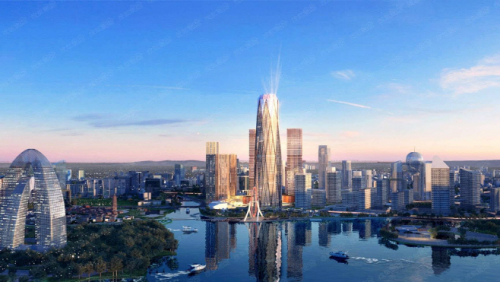 The subsidiary administrative center in Tongzhou, where various construction projects are about to complete. Some of Beijing's government organizations will move to Tongzhou at the end of this year./ Source: the website of the City of Beijing
According to China Times and other Chinese media outlets, Beijing has a number of urban problems as its population climbed to 21.7 million. The major problems of the city include traffic jams, environmental pollution, water shortage, and more. This means that some institutions have no choice but to transfer to the secondary center of the city, which covers 155 square kilometers. Fortunately, the infrastructure is built due to 6 years of preparation. Currently, a total of 255 construction projects are underway in Tongzhou, including subway construction.
More institutions are expected to move to Tongzhou next year. Universities and hospitals will be also transferred, according to a source familiar with the situation in Beijing. Chen Jining, acting mayor of Beijing who has just been appointed, visited Tongzhou twice in the last 40 days. Zou Huomou, a Tongzhou resident, said, "I've heard that China is working on the subsidiary administrative center construction project to make a completely new city by examining the current problems of Beijing thoroughly. The transfer of administrative capital is an excellent choice."
Beijing government plans to make Tongzhou a pleasant new city with a population of 1.3 residents by 2030. So it's possible that the Beijing government will completely move to Tongzhou. If this is the case, Beijing is expected to divide into three major regions - the old urban center, the Tongzhou subcenter, and Xiong'an New Area in Hebei province. A huge megalopolis could be created.
The Tongzhou project could receive high praise in terms of resolving the overcrowding of Beijing and solving various problems such as environmental pollution caused by smog. However, the downside is that the institutions of all levels will be scattered. Nevertheless, the project is underway and it's not an exaggeration to say that Tongzhou will inevitably become the administrative capital of Beijing.