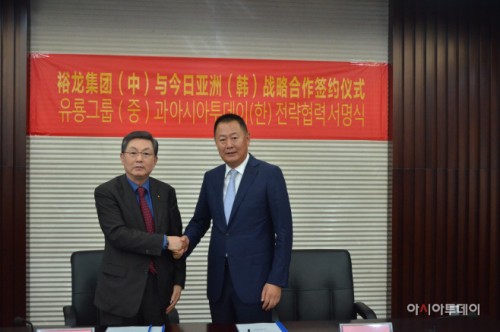 Woo Jong-soon (left), president of AsiaToday, and Fangguo Mao, chairman of Qingdao-based Abundant Dragon Group (ADG), have signed a strategic Memorandum of Understanding (MOU) on Monday./ Photographed by Ahn Jeong-hwan

By AsiaToday reporter Ahn Jeong-hwan
South Korea and China joined hands at private corporate level for economic exchange and friendly cooperation.
South Korean daily newspaper AsiaToday signed a strategic Memorandum of Understanding (MOU) with Qingdao-based Abundant Dragon Group (also known as "ADG" or "Yulong Group") on Monday.
Held at the headquarters of Yulong Group, the agreement ceremony was attended by executives including AsiaToday president Woo Jong-soon and ADG chairman Fangguo Mao.
"This year marks the 25th anniversary of diplomatic relations between South Korea and China," said Woo. "Economic exchanges at the private enterprise level have become important for the two countries to maintain cooperation system. I look forward to seeing the two companies work together to enhance Korea-China economic exchanges and strengthen friendly cooperation."
"I've heard that Yulong Group, which is leading in international e-commerce, logistics, distribution, and resort development in China, has been expanding dramatically by acting in the spirit of "integrity, enterprising, excellence and innovation" and with "scientificity, diversification, socialization and internationalization" as its development goals," Woo said.
"Chairman Fangguo Mao provided the best quality and service to customers while preparing for the future of the global era and this has brought Yulong Group's brilliant results. This was possible because of his excellent management ability and leadership."
"With this MOU, we expect both companies to achieve substantial development by taking practical cooperation measures based on mutual respect and trust. We wish for continued success of Yulong Group," he added.
In response, Mao said, "With active economic exchanges with AsiaToday, we will cooperate closely so that Korean companies can enter the Chinese market. We look forward to further development of Korea-China economy." He said, "Historically, Korea and China have long been maintaining friendly relations at the center of Northeast Asia in various fields such as culture and arts."
"We hope that the two companies will continue to maintain friendly relations and take advantage of each other to achieve effective synergy. The two companies will move forward toward a brighter future," Mao said.
China's Yulong Group is transforming into a global enterprise by focusing in international e-commerce, food processing, international logistics and trade, financial investment and real estate and tourism resort development.