By Hong Soon-do, Beijing correspondent, AsiaToday
Recently, the minimum wage is emerging as a hot potato in China, the engine of the world economy. It's no exaggeration to say that almost all economic entities like South Korea are paying attention to this issue. It is likely to remain as a troublesome issue for all in the future.
According to Beijing News and other Chinese media outlets, the current minimum wage for Chinese workers is about 2,000 yuan ($295) per month. When applied the international standard, the minimum wage is set at 10 yuan per hour.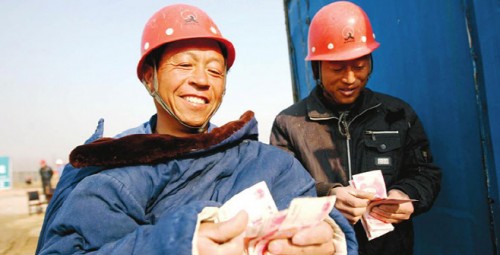 Workers at a construction site near Beijing receive wages. Although the minimum wage is set at 2,000 yuan per month, many workers still receive less than that./ Source: Beijing News
As of last year, China's GDP per capita was around US$8,500. It would reach $10,000 in the next few years. Considering the fact that it was only about $1,000 at the beginning of this century, the economy has developed very quickly. However, the standard of living for ordinary people has not changed so much. In fact, many of them still live in poor surroundings. at least 20 million to 50 million people live in China below $1 a day. It's all because the wages are so low.
China's minimum wage should be around 5,000 yuan, although prices are relatively low compared to Korea or Japan. However, the reality is that many business sites do not even offer the Maginot line of 2,000 yuan.
This is why the Chinese government and workers seem obsessed with the monthly minimum wage of 2,000 yuan. Fortunately, as of the end of June, China's four big cities including Beijing Shanghai, Tianjin and Shenzhen have raised minimum wage to more than 2,000 yuan per month. In particular, Shanghai raised minimum wage to 2,300 yuan. Seven provincial cities, including Shandong, Shaanxi and Jiangsu provinces have set the minimum wage standard at 2,000 yuan and they are making efforts to realize it.
But, reality is harsh. Apart from 11 provinces, 2,000 yuan is still a dream for the rest of the provinces. This seems why many people claim that China needs to further develop economically and socially further.