By Hong Soon-do, Beijing correspondent, AsiaToday
China's Communist Party is gearing up to hold its 19th national congress, which is scheduled to take place this fall. To do this, China is using state media as well as top entertainers in China for the smooth opening of the event. In other words, China is making every possible means for the successful hosting of the upcoming party congress.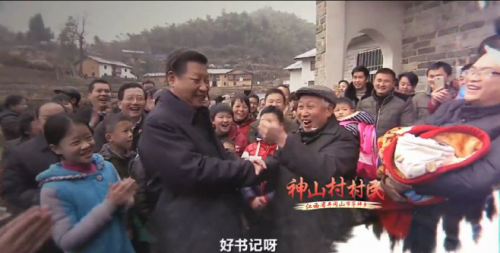 A scene from CCTV's "Thorough reform." It mainly tells viewers that Chinese President Xi Jinping's leadership and direction was right./ Source: CCTV
According to state news agency Xinhua on Monday, China Central Television (CCTV) decided to broadcast a special political documentary series through its Comprehensive Channel starting on Monday. Entitled, "Thorough reform", the 100-minute documentary is composed of 10 episodes. It is about the progress and results of Xi Jinping's reform since he came to power at the 18th National Congress in autumn 2012. You can obviously notice its real purpose.
Under orders from China's State Administration of Press, Publication, Radio, Film and Television, all cinemas across the country are obliged to show a three-and-a-half minute propaganda film titled "The Glory and the Dream - Our Chinese Dream" before every movie. What's very impressive is that the film is narrated by Huang Xiaoming, one of the most popular actor in China, aimed to give more impact to the audience.
Moreover, China is blocking and censoring various kinds of information that can harm the social atmosphere. For instance, China is deleting social media posts about the death of Nobel Peace Prize-winning writer Liu Xiaobo, who died on July 13. Besides, text messages relating to Liu Xiaobo and his wife Liu Xia go un-received on WeChat, the country's biggest messaging app. Z, a Beijing citizen who asked for anonymity, said, "Chinese authorities are trying to block our eyes and ears. This is so unreasonable."
In this situation, it seems obvious that Xi Jinping is tightening discipline among high-ranking government officials to cement his grip on power. Sun Zhengcai, once seen as a possible successor to Xi Jinping, was removed from the party post on Saturday. Although it looks artificial, preparation for the 19th National Congress is heating up in China.