By Hong Soon-do, Beijing correspondent, AsiaToday
There is much attention towards the real intention of Beijing's recent claim that it has 'zero military contact' with North Korea. It can be interpreted that China is showing its willingness to join the international community in response to North Korea's repeated missile provocations. All the more so considering the fact that the U.S. and the Western world pressed strongly China to exert more pressure on the North at the recent G20 leaders' summit meeting in Hamburg, Germany.
According to a source in Beijing on Monday, the person who made such remark on the North is Senior Colonel Zhou Bo, director of the Chinese Defense Ministry's Center for International Security Cooperation, in a rare interview with Singapore's Channel News Asia (CNA). He revealed clearly that the two countries had a lot of contact and exchanges in the past, and the suspension of military contact reflects a kind of change in the relationship for "the reasons known to all." This is extremely unusual considering the fact that China and North Korea signed the Sino-North Korean Treaty of Friendship, Cooperation and Mutual Assistance in 1961 aimed to undertake jointly to adopt all measures to prevent aggression against either party by any state.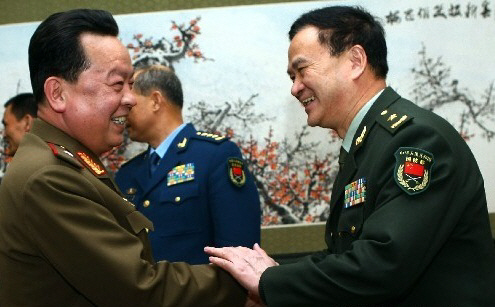 The North Korean ambassador to China attended an event hosted by the Chinese Defense Ministry and shook hands with the Chinese general. Currently, the military exchange between the two sides is almost 'none' that even this looks unusual./ Source: search engine Baidu
.
But given the fact that there has been little military contact between the two countries in recent years, things change. We can say that the remark has different purpose obviously since military-to-military ties haven't been as close as before. It seems that they are trying to set a cause that they will not get tougher with North Korea anymore. Mr. W, who has worked twice at the North Korean Embassy in Pyongyang, said, "China and North Korea were once blood allies but now their relations has deteriorated sharply. In this case, military-to-military relations get worse inevitably. The frequent collision of soldiers on the border shows the reality well. Besides, there has been a lot of exchanges at party and government level, not military level." He pointed out that Zhou's remark is nothing more than the excuse of the Chinese authorities not to press on to the North. In short, China is conveying a message that do not press on them rudely because they are pressing the North hard enough.
With such a preemptive response, China's oil supply cut, a strong punishment that the U.S. and the Western world want, won't be easy to proceed. Moreover, it won't be easy for the U.S. to press China anymore.