By Hong Soon-do, Beijing correspondent, AsiaToday
China is increasingly putting efforts to become the new space superpower although it experienced two rocket launch failures in the last 20 days. As a result, its five-year place for space development, which was decided at the end of December 2016, is expected to go smoothly as planned.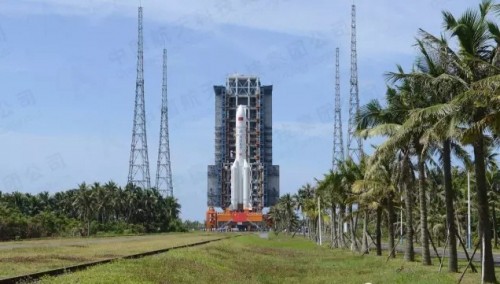 The Long March 5 Yao 2 rocket (Chang Zheng 5) ready for launch./ Source: Xinhua News Agency
It was not an exaggeration to say that China's space development has been on a roll since the successful launch of the unmanned spacecraft Shenzhou in the last century. However, there was a series of hardships and challenges these days. According to a Beijing source familiar with China's space development on Sunday, the Long March 3B (Chang Zheng 3B) launched from the Xichang Satellite Launch Center (XSLC) in Sichuan Province on June 19 failed to enter satellite orbit. On July 2, about two weeks after the failure, the Long March 5 Yao 2 rocket carrying the Shijian 18 - an experimental satellite - was launched from Wenchang Spacecraft Launch Center on Hainan island, but it exploded and plunged into the Pacific Ocean.
However, the Chinese aeronautical authorities seem to be far from depressed. Their recent decision to spend as much as $80 billion over the next two decades proves is a sure indication that they are willing to turn a misfortune into a blessing. According to the analysis by state media, including Xinhua News Agency, it's a huge project with an average of $4 billion a year. Most of all, China wants to become the first to explore the back surface of the moon in 2018. In order to do this, China is wrapping up building the Chang'e 4 satellite into a perfect level for exploration. Chances are better since the Chang'e 3 probe successfully landed on the moon on December 14, 2013.
This is not the only thing. China's plan to launch a space probe to use in its first mission to Mars in 2020 also garners attention. The probe is expected to orbit Mars and complete the mission of landing, extracting soil and exploring asteroids around Mars before coming back to the Earth. Another ambitious project is the lunar surface exploration of the country's unmanned spacecraft scheduled as early as 2031 and as late as 2036. If it succeeds, China might overlook the US or Russia in the space race. It definitely has basic capability, considering the fact that it launched the next generation transport rocket Long March 7 (Chang Zheng 7), carrying the Tianzhou 1 cargo spacecraft, and succeeded in docking with the Tiangong 2 space station last October.
The Chinese leadership, headed by President Xi Jinping, is aiming to become the new space superpower in range with the U.S. and Russia around 2030. It seems that China's ambitious space plan is not just a dream.