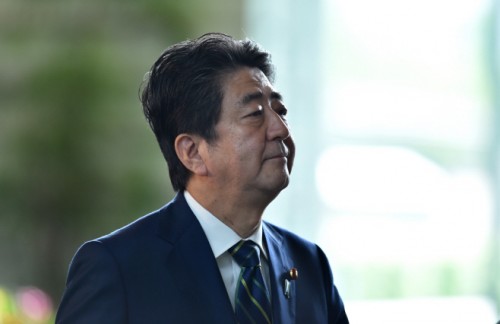 Source: AFP, Yonhap News

By AsiaToday reporter Kim Ye-jin
The ruling Liberal Democratic Party (LDP)'s disastrous defeat in the Tokyo metropolitan assembly election on July 2 is expected to weaken Prime Minister Shinzo Abe's leadership and interrupt his key policy goals. On the other hand, Tokyo Governor Yuriko Koike is being mentioned as the next prime minister after her party scored a sweeping victory.
According to Jiji Press and other media outlets on Monday, Abe told reporters, "It was a severe judgment. We accept it as a strict rebuke of the LDP. We should deeply reflect (on our acts)." He said, "We should not allow national politics to stall. We will be humble and careful to do what we need to do." His remarks suggest that he will continue to push forward his policy goals, such as constitutional amendment.
In the Tokyo metropolitan assembly election held the day before, Tokyo Governor Yuriko Koike's Tomin First no Kai (Tokyo residents first association) won 49 seats out of 127 seats, becoming the leading party in the assembly. Its allies, including the Komeito party, took 30 seats in total. As a result, Koike's party and its allies took 79 seats while rival LDP won only 23 seats, less than its worst-ever Tokyo poll in 2009, in which the LDP won just 38 seats.
There is a voice of dissatisfaction about the Abe Cabinet and the party administration within the defeated LDP, signaling trouble ahead for Abe's policy goals, such as constitutional amendment.
According to the Mainichi Shimbun, there are growing doubts over the timetable of Abe, who plans to submit his proposed constitutional amendment package to the extraordinary Diet session to be held this fall. A veteran LDP lawmaker said, "Constitutional amendment is impossible, and I won't allow it." Another veteran lawmaker said, "We have no choice but going back to put the economy first. I think the flag of amendment will be lowered (by Abe)."
The results naturally put Abe's long-term ruling plan on alert. It's because there is a precedent for regime change after the LDP lost in the Tokyo elections. In a 2009 Tokyo poll, the LDP lost 10 seats and gained 38 seats, withdrawing from its position as the leading party. The regime change took place as the Democratic Party won in the General Election held later. Therefore, the disastrous defeat could hinder Abe's plan for the amendment as well as his plan to run for a third term as LDP president.
At the moment, eyes are on Abe's Cabinet reshuffle scheduled next month. People are paying attention to whether the party will dismiss Defense Minister Tomomi Inada, whose controversial remarks contributed to Abe's support plunge.
On the other hand, Tokyo Governor Yuriko Koike is emerging as a candidate for Japan's next prime minister after beating the LDP. According to the Nihon Keizai Shimbun on Monday, Koike said, "The residents of Tokyo have expectations to make the old parliament a new one, and it made Tomin First no Kai as the leading party. As a representative of Tokyo residents, I will make sure to make a better Tokyo government."
Kichiya Kobayashi, a political commentator, told the Sankei Shimbun, "The Tokyo metropolitan assembly election may be Tokyo Governor Koike's first step to be Japan's first female prime minister."