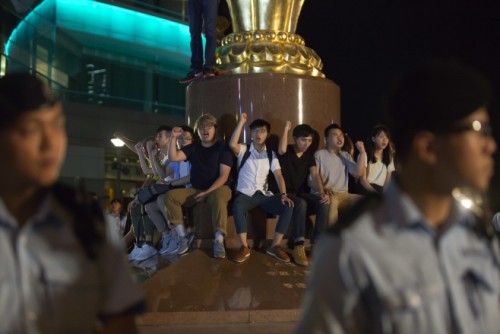 Hong Kong's Umbrella Revolution leader Joshua Wong, 21, on Wednesday evening occupied the Golden Bauhinia Statue - a present sent by the Chinese government in celebration of the handover of sovereignty in 1997./ Source: AP, Yonhap News


By AsiaToday reporter Kim Ye-jin
July 1 marks the 20th anniversary of Hong Kong's handover from Britain to China. However, young people in Hong Kong have negative feelings towards the mainland.
20-year-old Hong Kong student activist Chau Ho-oi was proud when the Chinese team won 48 gold medals during the 2008 Beijing Olympics. However, she told Reuters Tuesday, "Now I don't want to say I am Chinese."
Chau, who was arrested during pro-democracy movement "Umbrella Revolution" in 2014, is the first post-handover generation born in 1997. She said, "Even if you ask me 100 times, I would say the same thing."
According to a survey released by University of Hong Kong on Tuesday, only 3.1% of the Hong Kong youths aged between 18 to 29 think of themselves as "broadly Chinese." 20 years ago, the figure was 31%. Reuters interviewed 10 Hong Kong youths born in 1997, and all of them said they are "Hong Kongers" and have loyalty to Hong Kong. They said they came to think that way by a series of some maneuvers by the Communist Party leadership that seemed to suppress Hong Kong's freedom.
The Umbrella Revolution had a great impact on Hong Kong's young generation to have negative reactions towards China and have loyalty as "Hong Kongers". The failure of the Umbrella Revolution led to spread of anti-China sentiment. Many young people in Hong Kong gathered as part of the Umbrella Revolution, calling for the direct election of the leader of the city of Hong Kong. However, when the government rejected it, they lost hope.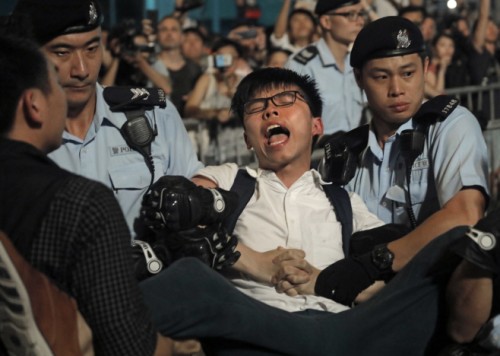 Hong Kong's Umbrella Revolution leader Joshua Wong was arrested by the police after he staged a protest at the Golden Bauhinia Statue on Wednesday evening./ Source: AP, Yonhap News
Those who think that the Umbrella Revolution did not solve the problem are broadening the scope to Hong Kong independence. Joshua Wong, one of the student leaders of Hong Kong's Umbrella Revolution, protested on Golden Bauhinia Square by occupying the Golden Bauhinia Statue - a present sent by the Chinese government in celebration of the handover of sovereignty in 1997 - and then was arrested by the police. The Hong Kong authorities have moved to crack down on separatist sentiment, triggering generational conflicts between young and old. A growing number of old people see young Hong Kongers' separatism movement as "waste of time."
The independence demand of Hong Kong youngsters is making Beijing nervous, and the Chinese government is moving carefully. More than 120,000 Hong Kong youths will participate in China-related exchange programs this year as part of the handover's 20th anniversary celebrations. The programs are partly sponsored by the Hong Kong government.
Carrie Lam, who will take office on July 2 as the next Hong Kong chief executive, recently told China's Xinhua state news agency that she would seek to nurture the idea of "I am Chinese" at nursery level, and revealed that she would make Chinese history a compulsory subject in junior secondary-school level. However, imposing patriotism could provoke greater repulsion. "How could the government not understand the more it forces Hong Kong people to love China, the more opposition this would draw?" asked 20-year-old Hong Kong student Jojo Wong. Even moderate students like Felix Wu, who revealed that he's not interested in politics, said, "Politically they promised nothing would change for 50 years," under a "one country, two systems" formula. He pointed out, "I think they're going back on their word a bit."
As Chinese President Xi Jinping is tightening control of Hong Kong, more young people in Hong Kong are likely to move abroad to escape from the shadow of China. Taiwan is emerging as a new emigration option. The English version of Asahi Shimbun reported Tuesday that less Hong Kong people are emigrating to the US and Australia while more people are emigrating to Taiwan. Last year, about 1,000 Hong Kongers emigrated to Taiwan. The media said Taiwan has become a realistic alternative to Hong Kongers since it's less expensive than emigrating to the US and other countries.